Alan Austin tries his hand at script writing for a fantasy film. But could such an outlandish story line have any credibility?
THE 1991 COMEDY King Ralph begins with the entire British royal family electrocuted in a rainy group photo shoot. A global search by the determined king's private secretary eventually locates Ralph Jones, son of an illegitimate child of a minor royal who once visited the United States. Ralph is an overweight, gum-chewing Las Vegas piano player addicted to televised baseball. He inherits the throne of Great Britain and the Empire.
Political fiction offers many engaging stories of candidates who achieved high office with no aptitude whatsoever and no means of having attained it on their merits.
Dave is delightful 1993 movie about endearing but unsuccessful Washington temp agent Dave Kovak who happens to be US president Mitchell's look-alike. Dave is inveigled by the White House chief of staff and press secretary to impersonate the president while he enjoys an illicit liaison, during which he suffers a severe stroke. The wily aides then require Dave to "extend things a little".
The 2004 movie version of The Manchurian Candidate depicts a young ex-serviceman manipulated by his politician mother to become a politician also – not to serve his country but to fulfil her evil purposes.
The common thread in all these is the puppeteer pulling the hapless candidate's strings. Ralph Jones had the king's dutiful private secretary, Dave had the ruthless chief of staff, and the Manchurian candidate his murderous mother.
News this week from another piece of literature – this time a factual biography rather than a comedic film – provides an intriguing further dramatic element in the script for another gripping movie.
Opening scene is a struggling journalist with a string of failures behind him bombing again at his job as a feature writer at The Bulletin. His boss, longsuffering editor David Dale – played by William McInnes – repeatedly tells the 30-year old he has to write fairly and impartially and not force his ideas down readers' throats.
But the hapless hack just cannot master the task.
While researching this script, Dale told IA:
"Tony Abbott was already there when I started editing The Bulletin. He was not a great journalist. I explained that the Bulletin's new direction could not accommodate the style of opinionated writing he was producing. He had to listen to and reflect other points of view. I would love to say I sacked him, but he resigned."
Our anti-hero soon finds himself at Rupert Murdoch's The Australian, where writing highly opinionated bombast with no regard for the truth is far more appreciated.
And thus begins an association with the shadowy Murdoch empire. So where will this lead? [Cue mysterious music.]
Then follows another patchy period where nothing seems to succeed. A stint running a concrete plant soon ends. A job as press secretary to Federal Liberal leader John Hewson ends disastrously when Hewson loses the unloseable 1993 election.
Major reason for that loss was the failure of Hewson and his team to sell the Fightback economic policy. But there were other blunders in media relations as well. Hewson later ruefully admits that his incompetent press secretary is "innumerate".
There will be flashbacks, of course, to earlier failures.
A failed relationship. Failure as a parent with his girlfriend who adopts out their son. Almost failing at Oxford, just scraping through with Cs and Bs in philosophy, government and politics subjects. No As. And being belted in the boxing ring and gaining huge cauliflower ears.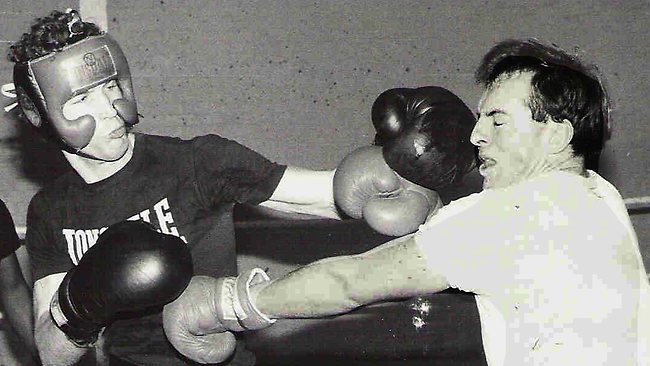 Then failing as a trainee priest — eventually dropping out after three years.
Finally, we cue happy music and sunny skies when he eventually wins something — a safe Liberal seat in a 1994 Federal by-election.
After failing to impress in opposition, periods in John Howard's ministry begin in 1998. These see few initiatives, some limited success, but some humiliations as well — including his spectacular 2006 failure to limit access to abortion drug RU486. Parliament responds to his ineptitude by stripping health ministers of this responsibility altogether.
He finally loses his ministry when the Howard government is defeated in 2007.
In Opposition again, after a bizarre internal brawl for party leader in 2009 [cue dramatic action music], Abbott wins the contest 42 votes to 41, which leads to our first romantic scene.
Abbott finally meets his idol Rupert Murdoch for lunch in Sydney in February 2010.
As with most intimate scenes, we don't see the lunch itself, just the afterglow.
Our puppet-hero reflects that meeting the great man was the
"...most natural thing in the world."
Then adds shyly:
"I hope he liked me."
We then see Coalition policy shaped according to policies Murdoch's publications have been pushing. And, in return, they campaign vociferously for Abbott to become prime minister at the 2010 election. [Cue stirring military music]
Tragically for our loser-hero, he fails yet again. [Cue tragic music.]
But all is not lost.
Murdoch engages directly in directing Abbott's policies.
Joe Hockey's biographer Madonna King helps our script here with her book, Not Your Average Joe.
It reveals that Abbott's lavish paid parental leave scheme was decided at that secret February 2010 rendezvous:
'The new leader, like many before him, had dinner with Murdoch, where he gave the media mogul a full rundown on the scheme – supplying enough detail for Murdoch to later have his Australian-based editors briefed on Abbott's plan ... They were encouraged to support it ...'
The scheme is then presented to Abbott's parliamentary colleagues as a leader's decision not up for discussion.
King writes:
'Big business rumbled but didn't erupt at the scheme, but the party room was in uproar.'
Our movie requires here a team of stunt actors to fight, gouge, shout obscenities, throw furniture and hurl backbenchers through windows — you know, the usual Coalition party room antics.
Mathias Cormann will, of course, be played by Arnold Schwarzenegger:
"Hasta la vista, Barnaby!"
The emotional high of the film comes when Abbott not only meets his mentor again but, in April 2013, tells the watching world how wonderful he is:
"John Howard has said that Rupert Murdoch has been by far Australia's most influential international businessman; but I would like to go a little further. Along with Sir John Monash ... and Lord Florey ... Rupert Murdoch is probably the Australian who has most shaped the world through the 45 million newspapers that News Corp sells each week."
Too cloying? Over the top?
"His publications have borne his ideals but never his fingerprints. They have been sceptical, stoical, curious, adventurous, opinionated yet broadminded. He's influenced them but he's never dictated to them."
Unbelievable? Hmmm. Yes. We may have to cut that bit.
Rupert himself then directs the next election campaign from New York with regular tweets to his arrayed troops across Australia:
5 February 2012:
'Gillard once good education minister, now prisoner of minority & Greenies. Rudd still delusional who nobody could work with. Nobody else?'
24 February 2012:
'Oz Labor tearing themselves to pieces. Ugly sight. Tony Abbott should just lie low and watch.'
19 August 2013:
'Conviction politicians hard to find anywhere. Australia's Tony Abbott a rare exception. Opponent Rudd all over the place convincing nobody.'
News Corp columnists and feature writers all follow instructions.
They depict PM Kevin Rudd as 'venomous', 'a volatile, nasty man', 'fake', 'a narcissist, 'hubris on steroids', 'callous and manipulative' who 'trashed the Bible' and 'slimed his faith' and also 'trampled on the lowly', a 'class clown' and 'psychopath' who 'the more you know him, the more you detest him'.
Tony Abbott, however, is 'the Oxonian Rhodes scholar', 'the volunteer fire-fighter and surf club member', 'the hugely intelligent, hugely decent, down-to-earth bloke', equally at home downing 'beers' and 'writing books about political philosophy'.
Abbott wins the election handsomely. [Cue full orchestral fanfare.]
And Rupert tweets his exultation (19 September 2013):
'Great first day by PM Abbott firing top bureaucrats, merging departments and killing carbon tax.'
Great first day by PM Abbott firing top bureaucrats,merging departments and killing carbon tax. Much more to do yet.

— Rupert Murdoch (@rupertmurdoch) September 19, 2013
So how will the movie end?
A happy ending with the government breaking up the ABC, selling Murdoch the parts he wants and closing down that Communist Mediawatch?
Or a tragedy, with both Murdoch and Abbott spurned by the people?
Or the Scooby Doo ending:
"I woulda got away with it too, if it weren't for those meddling online independent journals!"

This work is licensed under a Creative Commons Attribution-NonCommercial-NoDerivs 3.0 Australia License
John Graham originals, including the one above, may be purchased from IA's online store.
See more of John's political art on his Cartoons and Caricatures Facebook page.