The book Dial M for Murdoch is a chilling reminder, writes Graham Jackson, that Rupert Murdoch does not run normal businesses — but rather shadow states.




Reading the enthralling book Dial M for Murdoch in Australia is a strange experience.

While many of its key words evoke the English story – phone hacking, Milly Dowler, News of the World, Rebekah Brooks, Leveson – others are here with us now. Rupert Murdoch, of course, and the so-called journalists on his payroll who work in close combination with police. Political hopefuls working in close combination with the same partisan journalists. Missing messages, stolen diary entries, faulty memories…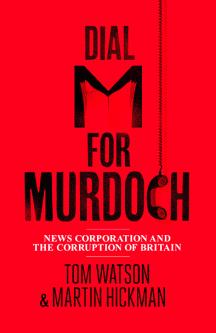 Ah yes, now I remember, the Murdoch tap on the shoulder. Hawke might remember it too. Blair, Howard, Rudd… Abbott's shoulder is still trembling from the touch. Abbott in turn anoints the conspirator Brough, from whom agreeable police divert shifty eyes.

What story are we reading?

While the story of the Murdoch media empire goes back decades, co-author of Dial M for Murder, British Labour politician Tom Watson, first became intimately involved in 2005 when he criticised Prime Minister Blair. The Murdoch propagandists went to work on the 'weasel', just as they've done here in recent years on the Browns, Windsors and Oakeshotts — all those who decline to take Murdoch's orders.

"I give instructions to my editors all round the world," Murdoch has been reported as saying.

And of his editors, managers and directors around the world, one of their number has said:
When you work for Rupert Murdoch you do not work for a company chairman or chief executive: you work for a Sun King. You are not a director or a manager or an editor: you are a courtier at the court of the Sun King—rewarded with money and status by a grateful king as long as you serve his purpose, dismissed outright or demoted to a remote corner of the empire when you have ceased to please him or outlived your usefulness.
Tom Watson was told that an editor had been designated to go after him and that
"…she will pursue you for the rest of your life."
"We will get him" is a refrain that echoes through this book and its sound is
all too familiar
.
Behind the fantasy or reality of exerting political influence, or of exercising power in one's own corporate right, lies the money-making business of breaking stories and of getting "the big story or headline by any means possible". And so it begins: surveillance, phone hacking, corruption of public officials, police, parliamentarians, lies, distortion, destruction of records.
In England, so much was known for so long without any public outcry.
News of the World's
Clive Goodman
was prosecuted for phone hacking in 2006 and went to gaol the following year.
Andy Coulson
resigned his Murdoch position then too, early in 2007, but would be repaid by the empire soon enough – once Murdoch, deciding
Gordon Brown
was no longer his man, tapped
David Cameron
on the shoulder and invited him for drinks on his yacht off
Santorini
. That was in 2008. By then Coulson had been the Conservative Party's director of communications for more than a year. Two years later, when Cameron became Prime Minister, Coulson's party position became a government appointment.
The fact that Murdoch's English arm,
News International
, was paying out its phone hacking victims had been known since mid 2009. That hacking was common practice in the Murdoch world was also common knowledge. Curiously no one seemed bothered. Scotland Yard was convinced all was in order, and that its hacking investigations were complete. News outlets more generally were probably content no one was looking in their direction. The News International cover-up of its hacking activities, supported by its intimidation of other news organisations, as well as individuals like Watson, seemed to be working effectively.
In September 2010, with his health and personal life under enormous strain, Watson had this to say in Parliament:
The truth is that, in this house we are all, in our own way, scared of the Rebekah Brookses of this world. It is almost laughable that we sit here in Parliament, the central institution of our sacred democracy – among us are some of the most powerful people in the land – yet we are scared of the power that Rebekah Brooks wields without a jot of responsibility or accountability. The barons of the media, with their red-topped assassins, are the biggest beasts in the modern jungle. They have no predators. They are untouchable. They laugh at the law; they sneer at Parliament. They have the power to hurt us, and they do, with gusto and precision, with joy and criminality. Prime Ministers quail before them, and that is how they like it.

And yet, I sense that we are at the beginning of the endgame. Things will get better because, in many senses, they cannot get worse.
As more hacking victims took News International to court, some of its former employees began to go on the record, and the company started to destroy its email trail. Andy Coulson came under increasing pressure over the part he'd played in the
News of the World
culture. Scotland Yard found it increasingly difficult to justify its modest response to hacking allegations. And even with newsworthy revelations going unreported in newspapers, Watson was able to take comfort from the assistance he was getting from social media.
Coulson resigned in January 2011, after a police interview the previous November and being called in December to give evidence about hacking in another case. With the BBC finally deciding to devote some of its investigative resources to the hacking scandal, the cover-up was coming under increasing pressure. Several days after Coulson's resignation the police announced a new phone hacking investigation,
Operation Weeting
, which in the following months broadened through
Operation Tuleta
(into computer hacking) and
Operation Elveden
(into police corruption). Yet despite all this, Murdoch remained confident of his relationship with the Cameron Government, of his bid for BSkyB and about Brooks' position.
That all changed at 4.29 pm on Monday 4 July 2011, when the
Guardian
website announced
that the
News of the World
had
'…illegally targeted the missing schoolgirl Milly Dowler and her family in March 2002, interfering with police inquiries into her disappearance.'
The moment had arrived for the whole country to become involved — outraged. So outraged that by the end of the week the News of the World was dead. With Murdoch under pressure worldwide, News International ran full page 'we are sorry' advertisements — parodied by Private Eye as "we are sorry we have been caught."

On Friday 15 July, Rebekah Brooks resigned, by which time Murdoch's BSkyB bid was also dead. Within days, the careers of two Scotland Yard chiefs were over and Brooks was arrested. Her friend, Prime Minister Cameron, announced the terms of reference of the Leveson Inquiry on 20 July.
Dial M for Murdoch takes the story through into 2012, but not as far as Leveson's report in November last year. The book concludes:

Rupert Murdoch was not running a normal business, but a shadow state. Now exposed by the daylight, it has been publicly humbled, its apparatus partially dismantled and its executives in retreat, at least for the moment. It stands shaken and ostensibly apologetic but it is still there, and Rupert Murdoch is still in charge.
Indeed he is. And his operatives are still out and about in Australia. Here, there has been no Milly Dowler moment, just the rise and rise of Murdoch to his current print media, Sky News and Channel 10 dominance. Here, a prime ministerial candidate can reassure Murdoch attack dogs that, come an Abbott Government, pesky court cases will be a thing of the past. Laws will be changed and the beasts unleashed. We have exciting times ahead.
Dial M for Murdoch, by Tom Watson & Martin Hickman (Penguin Books, 2012); RRP $22.99.
This work is licensed under a
Creative Commons Attribution-NonCommercial-NoDerivs 3.0 Australia License