Accounts surfacing of an ex-wife assaulting Rupert Murdoch is suggestive of a series a planned events designed to bring about regime change, writes former News Corporation senior executive Rodney E. Lever.
THE LEAKED ACCOUNT last week of a serious domestic incident, forcing Keith Rupert Murdoch to be treated in a New York hospital, has all the earmarks of a planned series of events designed to create a major change in the management of the News Corporation.
Undeniably, the event was a rash and cruel outburst, but its significance has occasioned an opportunity that has been considered for some time.
The story of then wife Wendi Deng's violent and physical assault on her aged husband was leaked months after the event to one of America's most popular magazines. That alone suggests to me that the leak is part of a carefully planned strategy to remove Murdoch from control of the massive company he created sixty years ago from a single insignificant Adelaide newspaper.
The people Rupert most trusted have been forced to act in the interests of the company's shareholders instead of accepting a continuation of the virtual dictatorship by Murdoch — whose intricate minority stake of preferential personal and family shares in News Corporation allows him to control every aspect of the business. This may have been acceptable before, but now that Murdoch has brought the company into disrepute through the British phone hacking scandals, actors are moving against him.
The Murdoch-owned shares are the company's only voting shares under the laws of Delaware — the only U.S. state in which Rupert could register his company and legally restrict voting rights of other shareholders.
The rest of the company's shares are owned by various investors who have no voting rights and, at every annual general meeting, are loudly demanding more influence over the company's activities.
Just a year ago, News Corporation was forced into an in-principle settlement of a major litigation in Delaware brought by a combined number of major pension funds consolidated into one legal action. The company was forced to acknowledge the rights of these shareholders and undertook specified "enhancements".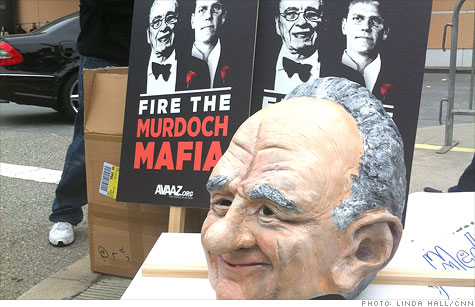 One of many protests outside News Corp shareholder meetings — this one in Los Angeles in October 2011. (Image via money.cnn.com)
The directions of Rupert's recent decision making, splitting the company into two ‒ one branch producing the newspapers and the other producing entertainment ‒ gave Murdoch powerful political influence and the ability to crush all opposition. But the newspapers are losing money, integrity and prestige all over the world — especially in Australia. It is solely the entertainment side and Fox News that keeps the money flowing to pay for Rupert's expensive hobby.
He needs his newspapers just as Popeye the Sailorman needed his spinach — for his strength, his ego, his political influence and for protecting his hidden wealth from the tax laws of the various countries in which he operated.
Getting Rupert out of his chairman's role is not going to be easy. He hired some very clever U.S. executives to run his business and so far has kept them under control.
However, if they turn against him now, the outcome could be embarrassing for him and might involve interminable and expensive legal challenges, which he might lose.
The influence of Murdoch's own family may be enough to prevent such a disaster. It would take a courageous stand by his two sons and two daughters, the products of two earlier marriages. The wider Murdoch family of relatives, mostly in Victoria, will also have a say in coming events.
Would they, in Rupert's lifetime, sell off the newspapers? Or would the old man continue to run them, as he always has, to his own personal political whims and social preferences?
We must wait and see.
Rupert will be 84 years old in March this year. As another octogenarian, I have to admit that life begins to get difficult when you reach that age. Memory lapses, forgetfulness, daily medical routines and stumbling over things in the garden all play a part in making one realise that life is not infinite.
Acceptance of the inevitable brings a calming effect.
That, I think, is what Rupert needs right now.

This work is licensed under a Creative Commons Attribution-NonCommercial-NoDerivs 3.0 Australia License
The originals of John Graham's art, featured in this piece as well as throughout IA, are available for purchase by emailing editor@independentaustralia.net. You can see a gallery of his political art on his Cartoons and Caricatures Facebook page.
Support independent journalism Subscribe to IA.