Just when you thought it was safe to declare you were Australian again, Pauline Hanson re-emerges for the 42nd time to stir up domestic bigotry and hatred.
Oh the humanity!
Why couldn't Pauline have done Australia the courtesy of at least extending us a full month of basking in the post-Abbott sun? We were feeling pretty good there for those nine minutes. With new Prime Minister Malcolm Turnbull spouting vaguely familiar words like "tolerance" and "collaboration", I could almost feel the embryonic stages of pride beginning to cultivate and swell in my chest. But then, like so many chapters in Australia's recent political history, this gentle caress is invariably followed by a swift and merciless kick in the testicles.
This country needs Pauline Hanson's outdated views on cultural relations about as much as an owl needs a Sony Walkman — not only is it of no use whatsoever, but it's also hopelessly outdated.
Hanson proclaimed her candidacy for the next Federal election via a Facebook flyer which declared:
'No More Mosques, Sharia law, Halal Certification or Muslim Refugees'.
As the more perceptive among you may have already picked up, this was not a broad policy brief seeking to artisanally blend macro economic factors with the subtly of Australia's social imperatives. Rather, this succinct digital document straight from Satan's bottom can be more aptly characterised as the ramblings of a pseudo-political figure majoring in the art form of weather vane hatred.
The former member for Oxley has for the moment dispensed with the need to criticise our original inhabitants for being dole bludgers, nor is she now feeling overtly compelled to flog the notion that we will soon be swamped with people from China, no the latest mantra is an ill-conceived contention that all of our nation's ills are the work of Muslims. For a figure who is so often derided for her naivety and lack of intellect, she appears to be acutely aware of what platform of prejudice to choose in order to gain the most public traction. Far too perceptive on this count for my liking.
Doing the media rounds over the last week or two, Ms Hanson told the Today Show that she
"... wouldn't sell [her] house to a Muslim."
For what it's worth, Pauline, I suspect that most Muslims might pass on the tantalising opportunity to move into your house anyway, given that you live in a predominantly white neighbourhood, where the caustic views of the former owner were lauded by the community with more gusto than Justin Beiber's nude photo was by 13 year-old girls. Talk about a fixer upper! It would take nothing short of an Islamic version of The Block to acquire the requisite DIY skills to make that palatable Muslim living.
Hanson also put forward the view that she must be right about her attitudes towards Muslims because she has more than 4,000 likes on her Facebook page. Well so does The Cats That Look Like Hitler Appreciation Society, but this doesn't mean we should be intensely consulting the political views of cats with Hitler moustaches and attempting to leverage them into power.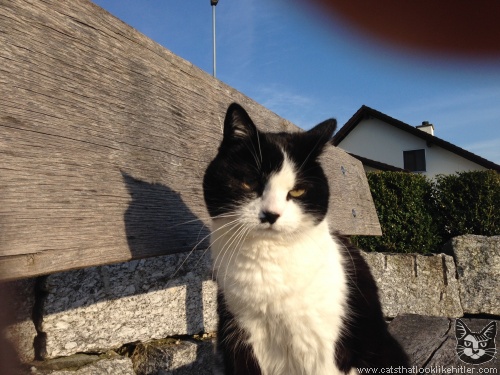 Note to the Today Show: do not interview this cat
For what it's worth, Hanson is dead wrong when she claims we are being invaded by swarms of Muslim refugees. According to data obtained by the SBS from the Pew Research Centre, the fastest growing religious group in Australia are, in fact, Hindus, who in the past five years recorded an 86% growth rate, compared to a 40% growth rate for Muslims over the same period.
The same research also concluded Australia has a major disparity in the perception of Muslims living here, with surveys suggesting most of us think Muslims make up 18% of Australia's population, when in fact they comprise less than 2.2%. By far and away the largest group of people living here remain suspiciously white, with the UK alone representing 21% of all people living on Australian soil who were born overseas.
I tend not to quote people with whom I severely disagree with, but on this occasion in light of the damming disconnect between Hanson's views and the statistical reality, I simply can't help but pose this question, Pauline:
"Please explain?"
Adam Bishop is editor for an online satirical website The Fault Report — where nine out of ten readers can't tell the difference. You can follow TFR on Twitter @TheFaultReport.
HALAL FOODS FOUND TO HAVE STRONG LINKS TO MUSLIMS http://t.co/LcT9ID7nHw @rustyrockets @pjhelliar @MerrickWatts pic.twitter.com/4cdrp0UX25

— The Fault Report (@TheFaultReport) October 17, 2015

This work is licensed under a Creative Commons Attribution-NonCommercial-NoDerivs 3.0 Australia License
Pauline Hanson is a candidate of the Nobel Prize for stupidly..one of her 2007 classics. #auspol pic.twitter.com/BHQZ82ASqN

— Mark (@MarkRDuckett) October 10, 2015
Just like all other racists & bigots, Pauline Hanson's ignorance is astounding. #auspol #asylumseekers pic.twitter.com/fbV0nLjrCX

— Scruffy (@glenpavey) October 10, 2015
Do the right thing. Subscribe to IA for just $5.
#Bendigo protesters take on the concept of irony. #Bendigomosque #auspol #pmlive #bendigoprotests #paulinehanson pic.twitter.com/D0zZ7h6Vdh

— #NewsFix! (@news_fix) October 10, 2015