Long a secret in the James Ashby texts, the Ashbygate Trust finally reveals the identity of LNP associate 'Kojak', which also explains how Ashby is now working for Pauline Hanson. Watch out, Pauline, writes Sydney bureau chief Ross Jones for the Ashbygate Trust.
In the Weekend Australian (18/7/15) we read:
James Ashby, who tried to sue Mr Slipper and the commonwealth in 2012, is now an adviser and pilot for Ms Hanson as she flies across Queensland in a One Nation-branded light aircraft ahead of an expected Senate bid at the next federal election.
Australian racism has a new dynamic-duo, able to hit abos and chinky-chinky chow-chows at will, from the air.
Last Sunday morning a small speck appeared over the Rockhampton skyline. It's shadow snaked menacingly up the Fitzroy River, flickering its way to Rocky airport.
Is it a plane? Well, yes. Piloted by James "Jimmy" Ashby, advisor to the stars. Wedged against him, in the passenger seat, sat Pauline Hanson.
The local cops had been briefed and security was tight when the small, rented single-engined plane came to rest. Pre-arranged land transport whisked the heroic pair straight to the Rocky Reclaim rally where Pauline proceeded to harangue the dogs with her vision for a better future. The one where we all wear ozzie flag undies, scoff deep-fried crap and wallow in self-pity.
Jimmy, cool in sunnies, above it all, observes from the shadows.
If you believe The Australian (which I do not):
'After flying into Rockhampton, Mr Ashby said he wanted to remain in the political background and had no intentions of standing as a candidate for One Nation. "I am only dipping my toe back into the political waters, I want to help Pauline out and don't see this as a major step to the extreme Right," he said.'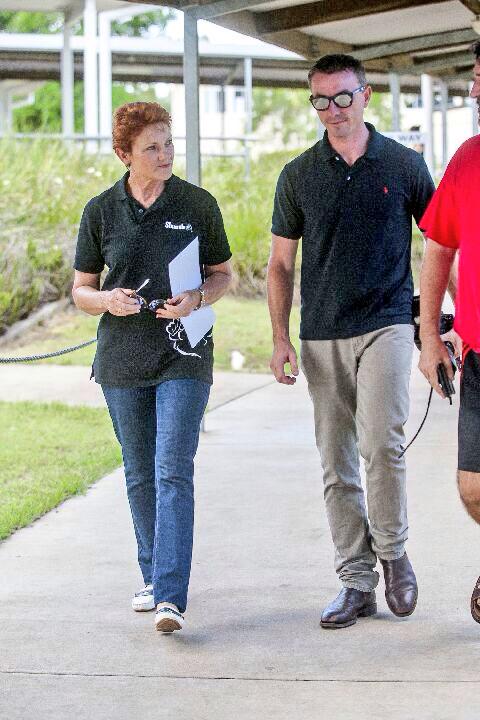 Classic! Ashby is now Pauline Hanson's pilot. #Ashbygate #choppergate http://t.co/4NjuLTLnko

— Margo Kingston (@margokingston1) July 20, 2015
But wait. How did James meet Pauline?
The Australian is probably completely wrong when it alleges James said:
'I was taking photographs for One Nation on polling day, met Pauline and we began a discussion that now has me working for her.'
While making enquiries on behalf of the Ashbygate Trust I came across the name Kojak.
On Friday 13 April 2012, Harmers' PR guy, Anthony McClellan, texted Ashby:
Good. Ignore Lewis. I will b speaking with him this AM. Did you send that info to Kojak? Hope you got some sleep. Cheers A.
The only person in Australia with the public handle Kojak is John Pasquerelli, former advisor to former MP Pauline Hanson in the heyday of her hard-right One Nation Party.
And now James and Pauline are together, flying high — or, as Peter Slipper might ask, mile higher?
Probably not. James is homosexual and Pauline — well, you can imagine the frisson, jammed tightly as they are in a light-aircraft cockpit for hours on end. The sky stretching endlessly ahead …
They even flew to Adelaide, though less successfully. It's awkward when no one gives a stuff:
Cabaret attracts all sorts: Pauline Hanson and James Ashby @AdelaideCabaret #adcabfest @AdelaideFesCent pic.twitter.com/ztVUK2avvm

— Andrew Taylor (@smh_andrew) June 7, 2015
Mr Ashby told The Weekend Australian he had been drawn to Ms Hanson after she just missed out on winning a seat at the January 31 state election. "I was taking photographs for One Nation on polling day, met Pauline and we began a discussion that now has me working for her," he said.

"I am fairly conservative and I share the same views as Pauline on a number of issues."
Taking photographs. Right. That's they way he worked into Slipper. Good luck Pauline. On second thoughts.
Ross Jones' book on Ashbygate is due out in hardcopy and e-book form next month. If you would be interested in pre-ordering, please email us here.

This work is licensed under a Creative Commons Attribution-NonCommercial-NoDerivs 3.0 Australia License
James Ashby - the former Slipper adviser - was out campaigning for Pauline Hanson yesterday #qldvotes @RoseBrennan12 pic.twitter.com/X8ftxz6R7W

— Jared Owens (@jaredowens) January 31, 2015
Shine a light into dark corners. Subscribe to IA for just $5.