Everything the mainstream media thought they knew about the Thomson case has been thrown on its head by Day Two of the trial. Will it last until Day Four? Peter Wicks reports.
Those who were in Melbourne's Magistrates Court yesterday for day two of the Craig Thomson trial might well have assumed they had, in fact, entered the Twilight Zone.
To say that the prosecution's case has been left in tatters would be an egregious understatement. In fact, these entire proceedings make a mockery of our legal system.
Day three looms large and, despite two days of one of the country's most eagerly awaited trials already having passed, the prosecution has yet to even make their opening address.
And despite prosecution not yet addressing the court or calling a single witness, 79 of the charges against Thomson have already been dismissed by the magistrate.
What you have most likely read in the mainstream press is how the prosecution team have vowed to appeal this decision that was made based on jurisdictional issues. The charges were dismissed as they do not relate to the Victorian police and involve alleged events occurring in NSW.
What the mainstream may forget to remind their readers is that these matters had been looked into by the NSW Fraud Squad numerous times after George Brandis hounded them — until he ran out of phone credit, or perhaps just credibility. The NSW Fraud squad stated there was no criminality involved and dropped any investigations into the matter like a hot … let's just say potato.
Having the allegations reincarnated in Victoria where politics and police seemingly mix better must have been the Plan B.
The prosecution, who were well aware that this outcome was not only possible, but also extremely likely, went into meltdown.
Witnesses have reported Detective Sergeant John Tyquin became visibly enraged at the outcome. Well, perhaps he can sense a wrongful arrest case coming — after all there were serious questions about the arrest warrant he issued.
Prosecutor Deborah Mandie said she was determined to appeal the decision and attempted to have the trial delayed until next year.
Clearly becoming increasingly frustrated at the prosecutions further attempts to delay their fraught case, Magistrate Rozencwajg stated:
"You have had almost a year to prepare. It's about time you bit the bullet."
The prosecution was given a two and a half hour break to get their act together, as a year was apparently nowhere near long enough to prepare when you are prosecuting a case for a Victorian Police squad unable to uncover any real evidence to back up their charges.
It is also worth noting that, although being given the time off, the prosecution decided not to cross the road to the Supreme Court to lodge an appeal, despite their angry ranting that this was what they would do.
Magistrate Rozencwajg, who was clearly frustrated by further attempts to delay and drag out proceedings, was insistent that the trial commence tomorrow and the other charges be heard.
After court resumed in the afternoon, it became known that the prosecution had made a decision that some of the charges were not strong enough to hold water and took it upon themselves to change them.
ARTIST'S REPRESENTATION OF THE VICTORIAN CRIMINAL PROSECUTION CASE AGAINST CRAIG THOMSON:
This was taken as yet another example of the prosecution and police making things up as they go along; Magistrate Rozencwajg was having none of it.
Like a parent telling a child, or a teacher to a student, the long-suffering magistrate explained to the prosecution that they had not applied to the court to change the charges, nor notified the court of any intention to do so. He then went on to tell them that they could write whatever they liked in their notes but that did not necessarily make it admissible in court.
In another bizarre act, the defence team indicated that they were happy with the prosecution's witness statements exactly as they were. Normally, there would be objections to witness statements such as then being prejudicial, or based on hearsay.
In an almost unprecedented act, the defence is so comfortable with the prosecution's statements it has not a single objection to any of them and therefore doesn't see them as in any way damaging to their case.
What will happen on Day Three? Who knows? But we suspect there will be more surprises than an Abbott cabinet meeting.
It was reported on Monday night by Umberto Ledfooti on Independent Australia the defence has finally acknowledged in court what I have been stating for what feels like an eternity, that the movies charged to Thomson's hotel room;
"… may not have been pornographic."
Going even further the prosecution then stated that these movies;
"… could have been The Sound Of Music."
Remember, this is the prosecution stating this — not the defence.
How many times have we seen throughout the mainstream press about Thomson watching porn in his hotel room? Upon what was this allegation based on?
Yesterday, amongst the 79 charges dismissed by the magistrate, were the charges related to allegations of brothel visits. The same alleged visits that, despite subpoenas and a futile, endless, scouring of the earth, no substantial evidence ever surfaced to back up the allegations.
This must be a blow for the mainstream, as a Thomson trial without the sex and the sleaze is a bit like a sausage without the sizzle.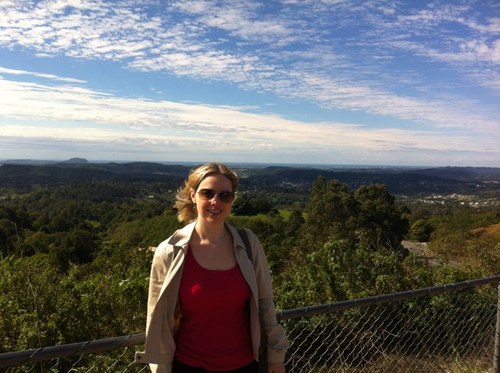 Yesterday, I note heralded the return of Pia Ackerman, pictured right (via twitter.com), to writing on the matter for The Australian.
Despite the dismissal of charges relating to brothels and escorts, and the porn movies turning out to be Julie Andrews musicals for all we know, Pia Ackerman who has been slammed by the magistrate for her "factually incorrect" reporting on this case couldn't help but add her unique sense of Murdochian "balance" and "factual reporting" to her article yesterday, when she asserted [IA emphasis]:
'Mr Thomson is facing over 200 charges relating to alleged misuse of Health Services Union credit cards to pay for pornographic films, female escorts, flights and cash withdrawals during his time as the union's national secretary and as a Labor MP.'
Actually, Pia, it's 145 charges now, it's The Sound Of Music, not pornographic films, and there are no escorts anymore. But never mind, why don't you throw in a couple of war crimes while you're at it?
On Monday morning, I described the case so far by saying that "the circus continues".
Seems I was underestimating.

This work is licensed under a Creative Commons Attribution-NonCommercial-NoDerivs 3.0 Australia License
Support independent journalism Subscribe to IA.