Behind its flimsy paywall yesterday, The Australian newspaper, through senior reporter Ean Higgins, launched an absurdly comical attack on Independent Australia. Peter Wicks dissects this piece and corrects the record.
YESTERDAY, hidden behind a paywall that is about as effective as many of its journalists and columnists, was an article in The Australian in which I was mentioned.
The article was by someone whose journalistic integrity I will allow you to judge by your own standards — or maybe even his own.
The journalist I am referring to is News Ltd's Ean Higgins and, in his article, which I will dissect today, he decides to take a couple of cheap pot shots at myself and David Donovan, the editor of Independent Australia.
The background to this article is that Ean Higgins has not liked the way both myself and IA have been publishing articles that correct the factual errors in The Australian's coverage of the Craig Thomson case — coverage that has been primarily written by Higgins and Pia Akerman, the daughter of conservative commentator Piers Akerman.
An article I wrote on 12 September, which exposed some of the many wild distortions and fabrications the writers – Akerman and Higgins – described as fact, appeared to be particularly distressing for Higgins.
In one part of the original article, I took the word of someone who was in attendance in court that morning, who asserted that the authors of the article had been referred by the magistrate for possible contempt of court charges.
Unfortunately, it turned out my source ‒ a former judge, as it happens ‒ was partially incorrect — the matter had indeed been referred by the magistrate, who had scathing reprimanded The Australian over the numerous errors of fact included in their piece about the previous court mention in the Craig Thomson case, though he had not referred it for contempt of court. So, I (and IA) corrected the record and apologised, as we feel that is always the appropriate response on the odd occasion we make a mistake.
The reader should keep in their mind that the reason I wrote the article, originally, was due to the magistrate's condemnation of The Australian's coverage. Had The Australian not printed so many highly prejudicial factual errors, which seemed designed to distort the truth about the case, I would have had no need to publish my article correcting the record.
Indeed, I felt the need to correct the record as The Australian seems to have an intense aversion to doing so — the repeated false claims in articles by Akerman and Higgins have yet to be corrected and, at time of writing, Thomson has yet to receive any apology for the misreporting of his case the magistrate so emphatically identified.
So, let's have a look at some of what Higgins states in his article — an article, laughably, which is meant to show us all how he gets his facts right because he knows his 'craft' and is not an 'amateur'.
Higgins starts off with this nugget of wisdom:
'THEY have never or rarely earned their living from the craft of mainstream journalism...'
For starters, 'never' and 'rarely' are completely different concepts altogether. The fact that neither David nor I write for the mainstream media ‒ or indeed a fringe-dwelling rag such as The Australian ‒ is completely irrelevant to 'the craft' of journalism, as I'm sure many a freelancer will attest.
Higgins then delves into the educational background of David Donovan, Independent Australia's managing editor (pictured right), whom Higgins hyperbolically declares is somehow a
'… self appointed tsar of citizen journalism'
— a strange term thought up by Higgins that, to me, demonstrates the state of mind of the man as he writes.
Higgins correctly identifies that David has Business and Arts degrees. What he fails to note is that David's Arts degree was from the School of Journalism at QUT — that is, David Donovan has in fact, a journalism degree. Of course, "factual" Higgins won't let that little nugget of information get in the way of a good yarn.
Higgins then goes on to say:
'On these citizen journalism credentials, Donovan has attracted advertisers to Independent Australia, including ANZ, Shell, Connect2Solar, AON Insurance, Malaysia Airlines and the Victorian Department of Human Services, to name just a few.'
Donovan's citizen journalism credentials, such as a degree in journalism and a highly successful and growing publication, has attracted some advertisers to Independent Australia — but none of the ones listed by Ean Higgins. What Higgins is referring to is advertising from AdChoice, which is part of the Google Adsense advertising network. It would appear clicking on the link displayed on the advert to discover this was too much "factual" research for Higgins to be bothered doing.
Of course, when it comes to who News Ltd endorses as advertisers, I can only judge on the Daily Telegraph as I, like the overwhelmingly vast majority of Australians, never buy The Australian. Judging from the back pages of the Tele, though, I'd say that News Ltd journalists are paid with the advertising dollars from prostitution, brothels, sex phone lines and pornographic video chat services:
Higgins then decides to have a cheap shot at me by calling me an 'unsuccessful ALP candidate', because I didn't win in the last state election, when I ran in NSW's safest Liberal seat.
Applying Higgins' standards of factual correctness, maybe we should refer to him as a 'failed Walkley's entrant'?
Higgins goes on to refer to the piece I published on 12 September, about which I referred to earlier.
After receiving my piece, David Donovan contacted Ean Higgins to get his side of the story, as good journalists are known to do. Higgins tells his readers his alleged reaction [IA emphasis]:
'I told Donovan it was the first I had heard of it and said I would check with Akerman, who had been at the court hearing in question. Akerman said that while the magistrate, Charlie Rozencwajg, had complained among other things about a headline, there had been no mention of any referral for contempt of court.'
Whilst it is now clear that there was no referral for possible contempt of court charges, there was certainly a referral to the Court's Strategic Communications Advisor and the magistrate did indeed flag referring the matter to the Australian Press Council. And we have the audio recording of the court mention to prove the magistrate said this.
So, let's have a look at what was actually said by Magistrate Rozencwajg in open court, most of which Higgins conveniently glosses over with the amorphous phrase 'among other things' in his error-riddled piece:
"Before we commence. At the outset I feel it is necessary to state that the article on the front page of The Australian last Tuesday, reporting on the mention held on the 2nd of September was factually incorrect in several significant respects. The court certainly made no determination as declared in the blaring headline, in fact I made no determination whatsoever. I have requested the Court Strategic Communications Advisor to take this issue up with the editor of The Australian newspaper and if necessary the Australian Press Council."
Magistrate Rozencwajg also described Higgins and Akerman's September 3 distortion of the truth in other ways, such as the article being:
"…completely at odds with the facts."
That there were:
"… many factual errors throughout the article."
And that the errors were:
"… not limited to the headline."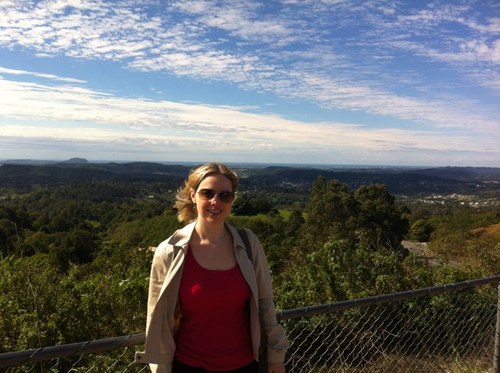 The Australian's Pia Akerman (image via Twitter.com)
I guess Akerman must have missed all that.
Higgins then goes on to talk about an email he sent myself and David and that he has selectively quoted from. Ean Higgins also asked that his abrasive, condescending and supremely arrogant email not to be published by us — a request we have honoured.
Higgins puts it like this in his article:
While Donovan and Wicks chose not to check the facts, I did, and then sent emails to Donovan and Wicks. My email to Donovan read in part:

1/ Neither Pia nor I, nor the editor, has been informed of any possible referral regarding contempt of court.

2/ Pia, who was in the courtroom, did not hear a mention from the magistrate about contempt of court.

3/ A spokeswoman for the magistrate has said in writing that your allegation is not correct.

4/ The source to whom you attribute this false allegation, Greg James QC, has not backed it up.

What I did in fact do was to check facts, as I always do.
Again, the reason for my post was Higgins and Akerman's article about the Thomson court mention was full of factual errors — as confirmed by no lesser authority than the magistrate hearing the case himself.
Higgins' assertion that he checked his facts might lead someone to get the impression that he must have deliberately set out to publish falsehoods, given there were so many errors in his article. If Higgins had checked his facts, the claims he made in his article wouldn't have been there. So why did this 'professional' leave them there?
It should be noted that Independent Australia sought the court recording in order to get an accurate portrayal of what had occurred. It should also be noted that Higgins has relied on the word of one person in the courtroom — the exact same thing he criticises us about. Even worse, the person upon whom he was relying was Pia Akerman, whose shoddy reporting of what had occurred in court had led to the magistrate delivering her a well-deserved slapdown whilst she apparently sat in court recording his words. It was the reason I wrote the article correcting the record in the first place.
In regards to the points he numbers in his email above, number one is accepted with the correction and apology made, and number two we have just covered off.
Number three and four, however, I have not addressed as yet, but will now.
A court media spokeswoman, not a spokeswoman for the magistrate, said she was unaware of the referral and suggested a recording was the way to be certain — so we ordered the recording as was appropriate. The media spokesman did not, as Higgins alleges, say in writing our claims were not correct.
And, of course, Greg James, QC, did, in fact, back up his incorrect observation on more than one occasion, thus making Higgins' final statement utterly false.
Higgins then turns back to criticising myself and Independent Australia:
'Donovan and Wicks broke the rules of basic journalism: check your facts before publishing, don't just rely on what someone said they might have heard, act promptly when someone points out you may be wrong.'
Good advice from someone whose cavalier approach to the very same 'rules of basic journalism' led to him receiving a dressing down by a magistrate on the factual accuracy of his reporting.
Yes, as Magistrate Rozencwajg so eloquently pointed out, Ean Higgins published an article that was "completely at odds with the facts". The fact that Ean Higgins (pictured right) did not attend the court mention proceedings meant that he was relying on what Akerman said she 'might have heard', which both myself and the magistrate have pointed out was reported wrongly by Higgins "throughout the article" in areas "not limited to the headline".
Note: These errors were printed by The Australian in their little read publication two months ago and have yet to be corrected or apologised about. Not what one could possibly describe as 'prompt'.
So, that is all of Higgins' own 'basic rules' broken.
Higgins then speaks of us having a vendetta against News Ltd and particularly The Australian.
Well, I won't speak for DD, but I do indeed have a vendetta aimed at exposing incorrect reporting of events, especially ones that in my view appear to be deliberate and written for political reasons. If Higgins feels The Australian has been particularly targeted, then I guess that is an indication of how often I find they get it wrong.
However, as readers know, we have also held Fairfax to account many times as well.
Higgins, near the end of his article, claims the following, before patting himself on the back for his standards of reporting, which he describes as 'objective':
'But there's a difference between opinion and comment on the one hand, and accurate, objective news reporting...'
Absolutely right Ean, we completely agree.
If you want opinion and comment you can pay through the nose for it and purchase The Australian. The articles I have discussed here have been referred to by a Magistrate as "completely at odd with the facts" and were clearly, in my view, set out to attack Thomson rather than report fairly — not the way I view 'accurate' and 'objective'.
Alternatively, you are more than welcome to read Independent Australia or Wixxyleaks, where we research our facts, tell the truth and, when a correction is needed, we do it as soon as possible and don't try and hide it in fine print on page 47.
The public do indeed have a choice: they can pour their hard-earned money into the pockets of billionaire foreign mogul Rupert Murdoch for a publication that loses money hand over fist and is losing readers at the rate of knots, or access their news online free at places like Independent Australia, whose readership is growing at a rate only surpassed by the rate The Australian is losing readers and respect.
Mr Higgins, it would appear that both the facts and time are on our side.
Firmly.
For another perspective on the "objective news reporting" exercised by Ean Higgins and The Australian, read Professor Robert Manne's March 2012 exposé in the The Monthly: 'Payback: The Bullying Tactics of the Murdoch Press'. You can also follow Peter Wicks on Twitter @madwixxy.

This work is licensed under a Creative Commons Attribution-NonCommercial-NoDerivs 3.0 Australia License
Support independent journalism Subscribe to IA.