EXCLUSIVE INVESTIGATION: PART TWO
PELLETTERGATE: The truth about Pell's prison letter!
~ by contributing editor-at-large Tess Lawrence
STOP PRESS!!
THE BATTLE FOR ROME!
Just hours before the Amazon Synod will start, in what amounts to a Declaration of War against Pope Francis, Cardinal Müller has released two films on YouTube based on his written Manifesto of Faith.
Cardinal George Pell's malevolent crusade against Pope Francis remains as vigorous as his disdain and notorious self-professed disinterest for victims of child sex abuse.
In shocking and curious timing on 1 August, Cardinal George Pell's supporters published a seemingly innocuous two-page letter the convicted paedophile had apparently penned and sent whilst in prison, on their Twitter account.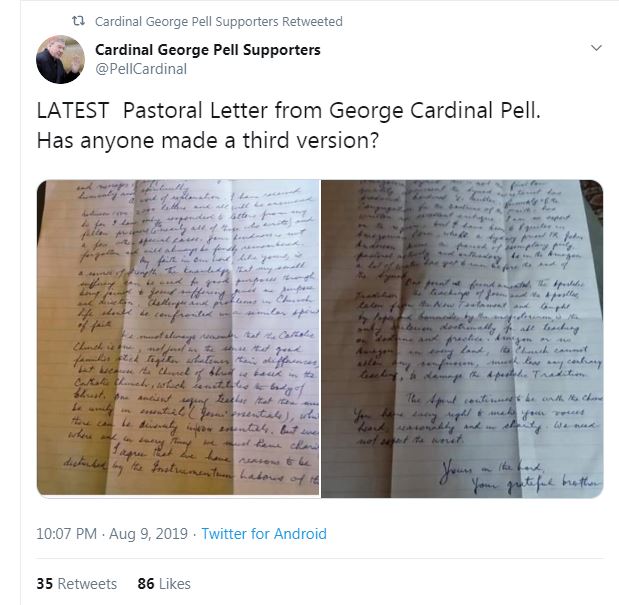 That letter was deleted and now the Twitter account "Cardinal George Pell Supporters" @PellCardinal has gone to god.
But the sentence below is what grabbed the media's attention. It was vintage, self-aggrandising Pell, invoking the name of Jesus, hauling the Messiah into Pell's messianic and squalid orbit.
As usual with Pell, it was all about him:
'The knowledge that my small suffering can be used for good purposes through being joined to Jesus' suffering gives me purpose and direction...'
CARDINAL PELL COMPARES HIS SUFFERING WITH JESUS'. REALLY?
Just how can Cardinal George Pell's "small suffering" be used for "good purposes" is anyone's guess. And in what way is Pell joined to Jesus' suffering? Jesus was neither charged nor convicted of paedophilia.
I dare not cast the first stone for obvious reasons, but surely Pell might better compare his suffering with some of the millions of victims of global clergy sex abuse, including his own victims — perhaps even pray for the soul of his victim, who died as a result of a heroin overdose.
Luckily, the Catholic News Agency reproduced the text of the letter in full, so you can read for yourselves Pell's blatant bitching about Pope Francis whilst extolling the virtues of his bestie and supporter — the dangerous über-conservative, religious fascist and fellow Cardinal, Gerhard Ludwig Müller.
Melbourne Assessment Prison

1/8/19

Dear Kathy and brothers and sisters in Christ of the Support Cardinal Pell group,

First of all, let me thank you for your prayers and messages of support. These bring immense consolation, humanly and spiritually.

A word of explanation. I have received between 1500-2000 letters and all will be answered. So far, I have only responded to letters from my fellow prisoners (to nearly all of those who wrote) and a few other special cases. Your kindness is not forgotten and will always be fondly remembered.

My faith in Our Lord, like yours, is a source of strength. The knowledge that my small suffering can be used for good purposes through being joined to Jesus' suffering gives me purpose and direction. Challenges and problems in Church life should be confronted in a similar spirit of faith.

We must always remember that the Church is one, not just in the sense that good families stick together whatever their differences, but because the Church of Christ is based in the Catholic Church, which constitutes the Body of Christ. One ancient saying teaches that there must be unity in essentials (Jesus' essentials), while there can be diversity in non-essentials. But everywhere and in everything we must have charity.

I agree that we have reason to be disturbed by the Instrumentum Laboris of the Amazonian Synod. This is not the first low-quality document the Synod secretariat has produced. Cardinal G. Muller, formerly of the Congregation for the Doctrine of the Faith, has written an excellent critique. I am no expert on the region, but I have been to Iquitos in Amazonian Peru, where a Sydney priest, Fr John Anderson runs a parish of exemplary piety, pastoral activity and orthodoxy. As in the Amazon, a lot of water has yet to run before the Synod.

One point is fundamental. The Apostolic Tradition, the teachings of Jesus and the Apostles, taken from the New Testament and taught by Popes and Councils by the Magisterium, is the only criterion doctrinally for all teaching on doctrine and practice. Amazon or no Amazon, in every land, the Church cannot allow any confusion, much less any contrary teaching, to damage the Apostolic Tradition.

The Spirit continues to be with the Church. You have every right to make your voices heard, reasonably and in charity. We need not expect the worst.

Yours in the Lord,

Your grateful brother,

+ George Card. Pell
Granted, it isn't exactly Wilde's The Ballad of Reading Gaol. Instead the letter is a crafty document dripping with the arrogant, sneaky manipulative spin so often deployed by the Catholic Church and George Pell Inc.
It is an ugly characteristic that victims, lawyers, advocates, families, whistleblowers and sections of the media have endured, challenged and been contending with, for decades.
SOME NOTES FROM THIS SIDE OF THE SACRISTY
Time and again, many of us have tried to call out the Church's fake news, lies, blatant distortions, hype, spin and subtext in relation to the sexual abuse of children and other matters.
The sexual abuse of children and girls/young women by other women and nuns, sometimes acting as pimps for priests and brothers also must be acknowledged and confronted, as must be those women who had/are in relationships with priests and other clergy — and their thousands of children. As must be victims of rape and violence.
Talking truth to this almighty power invariably provokes the wrath of this much corrupted church as well as unleashing a vile slurry of character assassination upon those who dare to call them out and challenge them in public and in the courtroom.
It has been successful in shutting down and thwarting dissent, police enquiries and other investigations, gagging victims with penises and fingers that held/hold the consecrated host and holy wine, that Catholic dogma maintains is not merely symbolic of the body and blood of Christ — but miraculously is the actual body and blood of Jesus, no DNA test required.
The Church also uses other instruments to satiate its naked sado-masochistic appetite, including enforcing upon victims, secret paltry agreements, often signed under great duress and distress. These trifling monies are a small price for the Church to pay to facilitate sexually enslaving and trafficking children. Make no mistake, these children were/are sex slaves and trafficked.
As they grew into adults, we now know that so many of our children, our brothers and sisters, our mothers and fathers, uncles, aunties, nephews and nieces – real human beings – to this day remain otherwise enslaved to the awful industrial strength crimes perpetrated upon them when they were little and, inevitably, these hurts were foisted upon families, friends, so often cruelling personal relationships and intimacy.
Once violated in this brutal way, neither the wounded body nor the soul and psyche seems able to heal completely. It is as if the perpetrator has broken off these bits of us and stolen them forever, so that in some horrible way we are bound to them and they, to us. I have a close friend who has been both raped and shot in separate incidents. That person says they hardly ever think about the time they were shot, but that the rape, despite years of therapy, continues to be relived. It constantly stalks them and haunts, an unwanted visitor, an intruder.
How much of the weekly offerings of the faithful laity, rather than the holdings and investments of the Church, have been squandered in payouts for this recreational sex abuse of children? If the answer is all of it, then it is still not enough. No amount of money will ever be enough to pay for the deaths and devastation caused to victims and families — by the Catholic Church, in particular.
Stay with me as we now as we drill down and crawl through the labyrinthine sewers of intrigue, in-fighting and the spillage that now pollutes the Father Church and its sprawling dominions. All roads lead to Rome and the Vatican. For victims, they merge into the highway of hell.
PELL'S PRISON LETTER A BOMB THROWN UNDER POPE FRANCIS' CHASSIS
At first glance, the Pell letter appears to be benign, but to anyone who is aware of the seditious politics of Vaticannibalism, it is an highly explosive incendiary device thrown under the chassis of Francis' Popemobile, designed not only to undermine him but also to further destabilise his authority and administration, fuelling a greater schism between far right conservative clergy and their progressive brethren.
For decades, the sheer firepower, domestic. political and global influence of the Catholic Church has left even the combined might of the likes of America's National Rifle Association, the tobacco and armaments industries, combined, for dead.
PELL'S SUMMONING OF JESUS IS HIS SCHTICK

—

BUT SALUTE TO M

Ü

LLER
Pell's alignment with Jesus is to be expected, it's his schtick. But Pell's salute to Cardinal Gerhard Ludwig Müller, the dangerous notorious religious bigot, extremist, racist, islamophobe, misogynist, climate denier who like Pell also covered up industrial strength child sexual abuse by clergy in his own parish, is also a public smiting of Pope Francis, of his authority and style of inclusive ecclesiastical leadership. It gives the finger to the Pope.
The bromance between Pell and Müller is a long-standing affair. Both cardinals "have it in" for Pope Francis. Both are autocratic "hauteur" princes of the Church, who act like they have the keys to the kingdom, both heavenly and on earth.
It is a well known fact – and certainly to Pell Inc. – that prisoners are not allowed to indulge in social media or to encourage others to post things on their behalf. The ensuing disingenuous furore after Pell's letter was published resulted in a theatrical scramble by the authorities, Pell Inc., and the launch of a Department of Justice investigation. Good luck with that!
Assertions that Pell's letter was simply a "pastoral" letter is a load of bollocks. It is a religiopolitical document, designed to contribute to ultimately dethroning Francis — and Pell's reference to Müller and his manifesto attests to that.
It was certainly no accident that Pell's letter was published on the Twitter account of his supporters. Indeed he tells them 'You have every right to make your voices heard'. One doesn't have to decipher the Da Vinci Code to see his motives. Cursory knowledge of the Medici codex might help.
As appeal verdict looms, Pell faces investigation over Twitter post https://t.co/vhMjjE4pXO via @cnalive

— Ed. Condon (@canonlawyered) August 12, 2019
DID ARCHBISHOP

PETER COMENSOLI "SMUGGLE" PELL LETTER FROM PRISON?
Independent Australia has been told by a corrections worker that Pell's letter was "enabled" by prison staff and that the letter was given to a visitor.
IA has been told that the visitor concerned may have been Archbishop Peter Comensoli, who is known to visit Pell and hear his confession.
The corrections worker said prison staff were unaware the letter was destined for social media distribution.
Further, IA has been told that Pell was advised to give the letter to Archbishop Comensoli, rather than to any member of his legal team, to enable lawyers to attest to having no role in "Pellettergate".
"Put it this way, Tess, It was decided that it was better to seek forgiveness rather than seek permission," were words used to me by a prison employee to sum up the deliberate violation of commonly known prison rules.
After all, who cares about a mere letter slipping betwixt the prison bars, when Victoria's prisons are infamous for the riots, murders and bashings of prisoners, ergo, the execution of gangland supremo of prisoner Carl Williams and the recent stabbing of another gangland supremo, Tony Mokbel.
Pell has outed himself as still a major player in Vatican intrigues and palace coups. He knows more about cover ups than most of his fellow inmates.
CARDINAL M

Ü

LLER COVERED UP SEX ABUSE ALLEGATIONS IN HIS DIOCESE
It is disturbing, though, that whilst the publishing of the letter has become the main controversy, the contents of the letter have not been properly scrutinised.
To anyone who cares, Pell's clear contempt for the Instrumentum Laboris of the Sinodo Amazonico that starts in Rome tomorrow (Sunday, 6 October) is a blistering attack on Pope Francis and Catholic progressives concerned about the climate, the Earth itself, the welfare of indigenous Amazonians, the horrifying crimes against the environment, and against those human beings trying to protect their traditional homelands and their wider habitat.
The document also explores other contentious issues, including an increasing role and involvement in the Church for women and married priests. These are all matters that are anathema to the likes of Pell and Müller.
It is curious how few people have dared to write about the implications of Pell's prison letter. IA has been told one reason is that people are scared of clashing with Pell, let alone Müller, and another reason is that it is feared that any such discussion could lend itself to misinterpretation and criticism of Pell whilst he is seeking leave to appeal to the High Court.
But the syndicated Catholic News Agency's Ed Condon has picked up on some aspects of this schism in the Catholic Herald, including some of the working paper's discussion points.
That document, which has been the source of considerable discussion and commentary, included discussion on the subject of ordaining so-called viri probati, or "proven men", who are married, to answer a shortage of priestly vocations.
The working document, which calls for 'a Church with an Indigenous face' , further recommends that the Synod identify:
'... an official ministry that can be conferred upon women, taking into account the central role they play in the Amazonian church.'
SYNOD CALLED BY POPE FRANCIS

—

PELL AND M

Ü

LLER TRASHING IT
The Synod is a special assembly called by Pope Francis. The document is a wide body of work that far exceeds anything that even successive Australian governments have produced in relation to, say, working with and learning from indigenous brothers and sisters, such as saving the Murray-Darling rivers, saving our environment, our Pacific family.
"This is not the first low-quality document the Synod secretariat has produced."
~ Incarcerated Cardinal George Pell
So it is no surprise that he would dismiss the Instrumentum Laboris with this insult to his brother bishops:
WHAT IS PELL THINKING, ALIGNING WITH CARDINAL MULLER?
Such things are anathema to the fundamentalist Pell and to his intellectual doppelgänger, the German Cardinal Müller, erstwhile Bishop of Regensburg, also a vociferous critic of Pope Francis and an unpleasant piece of work.
When Francis unceremoniously sacked him as head of the Congregation for the Doctrine of Faith, Müller was furious, describing his dumping as "unacceptable".
A brief article in Bavaria's Passauer Neue Presse by von Karl Birkenseer, published in July 2017, encapsulates Muller's bruised pride and sense of entitlement — both sentiments shared with his Aussie mate, Pell.
But they are not the only similarities.
The UK based Catholic Herald reported that, on the last working day of Müller's five-year term as a Prefect of the Congregation for the Faith, Pope Francis informed him "within a minute" of the decision not to extend his mandate.
"He did not give a reason... I cannot accept this way of doing things. As a bishop, one cannot treat people in this way."
We can give Müller a couple of reasons why Francis may have sacked him. And so can Cardinal Pell.
Like Pell, Cardinal Müller has been criticized for the way he has treated – you guessed it – allegations of sex abuse in his parish. You may need to shower after you read this next bit.
PELL'S MATE CARDINAL M

Ü

LLER REINSTATED PEDO PRIEST PETER KRAMER
What is more, not only had Muller reinstated convicted (2002) paedophile priest Peter Kramer (as per usual modus operandi), assigning him to another parish, Müller did not inform parishioners of Kramer's convictions. So Kramer was rewarded for his crimes with a smorgasbord of young, fresh meat.
CARDINAL M

Ü

LLER INVOLVED IN COVER UP OF ABUSE OF 547 CHOIR BOYS
That's not all. In yet another bizarre similarity with Pell, Muller was also involved in a cover up and thwarting of investigations into the sexual and physical abuse of more than 500 boys attending the world famous 1000 year old Regensburg Catholic Cathedral Choir.
WHO WAS THE CHOIR MASTER? POPE BENEDICT'S BROTHER GEORG RATZINGER
The dour Cardinal Gerhard Muller, Cardinal Pell's champion, stands accused of the cover up of sexual abuse on hundreds of "Little Sparrows" choirboys.
Yep, the Regensburger Domspatzen's (Cathedral Sparrows) domkapellmeister at the time was none other than Georg Ratzinger, elder brother to former Pope Benedict XVI — aka Joseph Aloisius Ratzinger.The brothers are known as the Ratz Pakz. And they don't like Pope Francis, either.
ABUSE OF CHOIR BOYS, AS WITH OTHER PILS, WENT ON FOR DECADES
For 30 years Pope Benedict's little brother, Rev Georg Ratzinger, ran the Cathedral Sparrows. In 2018, the abuse of the choir boys was made public, along with a litany of other allegations involving Catholic clergy throughout Germany. Five years later, lawyer Ulrich Weber was assigned to report on the allegations.
Associated Press journalist Geir Moulson wrote at the time, that at
''... least 547 members of a prestigious Catholic boys' choir in Germany were physically or sexually abused between 1945 and 1992, according to a report released Tuesday.'
Victims of the abuse have described the choir school as
"... prison, hell or a concentration camp...the worst time of their lives, marked by fear, violence and helplessness."
But with the explosive release of Cardinal Müller's film that we have put in the Stop Press above – there is little doubt that Pope Francis and his supporters have another fire on their hands, as well as those along the Amazon basin – let alone other parts of the world.
No Marquis of Queensbury Rules where the likes of Cardinals Pell and Müller are concerned.
Just as well Pope Francis had a job as a bouncer in a bar. It should stand him in good stead, even given the revenge and malevolence of these power hungry egomaniacs, despite their dismal performances as priests.
WATCH OUT FOR PART THREE: MORE DIGGING — AND, SADLY, MORE DIRT
Disclosure: Lawrence has worked for the Christian Brothers and is lucky enough to know some fabulous nuns and brothers and priests and wonderful people who happen to be Catholic as well. She is a prolapsed Catholic, but still carries rosary beads when flying.
SUPPORT CONTACT NUMBERS
We hope these contact numbers prove helpful if you are in need of support, or know someone who does. Please reach out and remember that we are part of a shared humanity and that support groups are not judgmental.
Broken Rites
Phone: Broken Rites Australia national hotline: (03) 9457 4999
Mail: Broken Rites (Australia) Collective Inc. PO Box 163, ROSANNA, Victoria 3084, Australia
Email: brokenritesaustralia@hotmail.com
Royal Commission
Phone: 1800 Respect or 1800 737 732
Website: 1800respect.org.au
Contact: childabuseroyalcommission.gov.au/contact
Lifeline
Phone: 13 11 14
Website: www.lifeline.org.au
Counselling and support for survivors
Phone: 1300 657 380
Counselling and support for survivors, child protection advocacy
Phone: 1800 272 831
Support and advocacy for Forgotten Australians
Phone: 1800 008 774
Social work services for Former Child Migrants, including counselling and support for family reunions
Phone: 1800 040 509
The Trauma-informed telephone and online counselling for childhood abuse. Training and organisational capacity building on child abuse prevention
Phone: 1800 991 099
The national peak body for children and young people with disability. Provides information and systemic representation
Phone: 1800 222 660 / 03 9417 1025
The Healing Foundation
Service to help build the capacity of Indigenous organisations and support the development of the Link Up network
There is no phone number to contact the Healing Council. Please contact using their website: healingfoundation.org.au
Independent advocacy, casework, referral and support to aid recovery for survivors, their families and communities responding to religious institutional abuses.
Phone: 03 9326 1190
National telephone and online support, information and referral service for men with family and relationship concerns
The national telephone line to provide information and referrals to people with disabilities
Phone: 1800 422 015 / TTY: 1800 422 016
National telephone counselling service for people who have experienced abuse. Face-to-face counselling is available in New South Wales.
Phone: 1800 211 028
Advocacy, referrals and support services to people who have experienced religious/clergy abuse, with a focus on the Jewish community
This work is licensed under a
Creative Commons Attribution-NonCommercial-NoDerivs 3.0 Australia License
Support independent journalism Subscribe to IA.