Only one party, the Greens, oppose the looting of Australia's natural treasures by Adani — and that may just be enough to get them their first ever seat in the Queensland Parliament. Contributing editor-at-large Tess Lawrence reports, along with exclusive vox pop interviews by Walkley Award winner Amanda Gearing.
THE OLD PARTIES just don't get it. They're both on the nose.
Although former Queensland Premier Annastacia Palaszczuk will be able to restore her Labor Government she cannot boast a mandate. There are still thousands of the 369,000 postal votes yet to be counted. Next Tuesday we'll know the final results. Meanwhile, let's hone in and have a closer squizzy at things.
Maiwar is the brand new shiny electorate of Brisbane's western suburbs, that includes recycled chunks of the former electorates of Mt Coot-tha and Indooroopilly.
Since 2009, the Liberal National Party's Scott Emerson had been superglued to the latter safe seat, as well worn as a comfy smelly sneaker.
But despite Prime Minister Turnbull's dopey assertions to the contrary, the electorate has clearly tired of the offensive odours emanating from Canberra and the British-born one-time journalist, minister and former shadow treasurer has now been turfed from office. Not a happy chappy.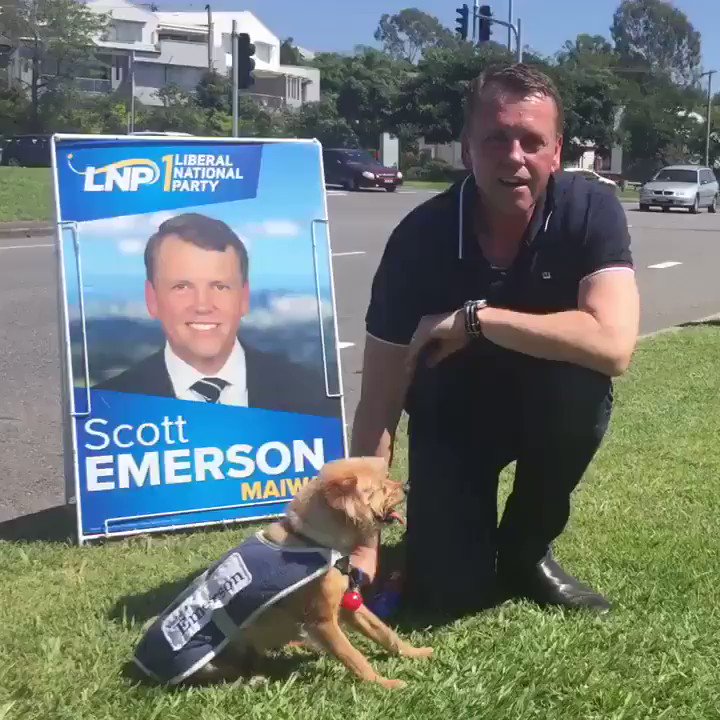 Who said if you need a friend in politics get a dog ? At least gorgeous Taffy still loves Scott even if the electorate have gone off him (Image via @ScottEmerson)
Labor's Ali King is coming close to winning his throne and being crowned queen, although the ABC cites another lawyer and interloper, Greens candidate and anti-Adani coal mine activist, Michael Berkman, as ahead at the time of going to press.
YOU DOING A "SAM DASTYARI" ALI ? NAUGHTY!
During the campaign, Ms King was caught out doing a "Sam Dastyari". She was overheard telling a constituent that the $16 billion Adani mine would never happen, in flagrant disavowal of Labor policy.
In sweet justice, the constituent to whom she fibbed just happened to be an ABC journalist.
At the ABC's last count updated this afternoon, Berkman had 52.3% of the votes earning a favourable swing of 5.3%, with 82.7% of votes counted.
Berkman's longstanding fight against the mine gave the electorate a chance to also vote against the mine, given the flaccid subservience to Adani by the old parties.
One can almost hear our Great Barrier Reef breathe a sigh of relief — albeit nervously given the mine remains a Labor wet dream.
Berkman made a name for himself working for the community legal group, the Environmental Defenders Office, Queensland whose stated goals are
'... to protect clean air, soil and water for safe and healthy communities; to restore and preserve nature, the Great Barrier Reef and wildlife; and to advance clean energy and keep our climate safe.'
Prepoll at Indooroopilly for @mcberkman - tonnes of support for this wonderful man! 297 votes to change to turn Maiwar @QldGreens! #qldpol pic.twitter.com/1NDHsazJjL

— Larissa Waters (@larissawaters) November 22, 2017
The ALP, like the LNP have brazenly prostituted themselves and Australia's environmental security to the appalling Adani coal mine operation in the Galilee Basin.
Once again, these two political behemoths have colluded to steal sacred land from traditional owners and the nation's collective environmental inheritence to onsell/lease to economic carpetbaggers and environmental looters.
The Wangan and Jagalingou people, traditional owners of the land concerned, have been treated with contempt by Adani and the Queensland and Federal governments, in yet another shameful example of Indigenous elders abuse.
It is an ecocide travesty destined to make Australians accomplices to this notoriously shonky and squalid organisation, whose rancid reputation is well known in their India homeland as well as abroad. They are indecent corporate citizens, whose toxic legacy has not only contaminated the air, the earth, the seas, the rivers where they operate, but also governments.
Thankfully, there are a number of non-government organisations, community groups and individuals who are relentlessly campaigning against Adani's eco-carnage and indifference to the wholesale polution of India, let alone the planet.
There are leaders like Geoff Cousins of the Australian Conservation Foundation, whose corporate blooding makes him a formidable combatant against Adani, governments, their various spinmeisters and bottom feeders.

Investigative journalist and broadcaster Amanda Gearing wields a microphone as well as her pen (Photo: amandagearing.com)
We are delighted to welcome Walkley Award winning investigative journalist and broadcaster Amanda Gearing to IA.
The ever curious Gearing, who weilds a microphone as astutely as she does her pen, decided she'd do a vox pop at Maiwar and capture some of the mood and thoughts of voters as they went in and out of the voting booths.
Gearing, who now lives in Brisbane describes Maiwar as
"... a very wealthy electorate — lots of academics and students because of the two universities: University of Queensland and the Queensland University of Technology."
The responses provide an insight and snapshot into what people – including commentators, academics and analysts – have been saying for yonks.
The legacy parties, in particular, are failing to engage with an electorate that in many aspects has outgrown them and are more progressive. The same sex marriage Survey is emblematic of this disconnect.
But as you will read, there was much confusion in Maiwar. You'd think that given its new listing, that the various political messages would be mined, recut, polished and heard loud and clear. Not so.
Amanda Gearing's Maiwar vox pop
Here is an edited sample of questions and responses...
AG: Right, so you are not quite decided, why is it difficult for you?
Because nobody has presented policies that tick all my boxes, everybody has touched on potential elements, but nobody has presented the whole package, that I have been able to say: "Yep they are for me."
So I am tossing up the Barrier Reef, coal, this, that...
POLLIES LOST TOUCH WITH THE REAL WORLD
AG: What do you think are the major issues?
Continuing rising costs particularly electricity. Disregard for our natural heritage and, just generall,y I think a lot of politicians have lost touch with the real world in a sense.
AG: Do you think it is an unusual situation where we have Adani proposing the biggest mine in the Southern Hemisphere and, at the same time, both major parties and the potential balance of power party One Nation all support the Adani coal mine​ ​?
See this is it... You wonder why my mind is not made up [laughs].
*****
AG: Do you feel lost?
That is a good way to put it. Yes, lost in your own stomping ground, so how is that? Pretty sad.
TIM NICHOLLS: WHO HE?
AG: Do you know who the leader of the Liberal National Party is?
No.
Tim Nicholls talking on his Imaginary phone to Hanson about the Imaginary balance of power that Hanson said she would hold! #auspol #QldVotes2017 pic.twitter.com/7JWxBhylUa

— Lauraine knight (@rainey_knight) December 1, 2017
IF WE WRECK THE REEF WE'RE IDIOTS
AG: There is one major issue in this election which is the Adani coalmine, the biggest mine in the Southern Hemisphere taking coal out through the Reef. Both major parties have said that they will build the mine, the One Nation party says it will build the mine, so it doesn't really matter who you vote for ...we will get a coal mine and we will wreck the reef. Do you think that history will judge us harshly?
Yeah probably. If we wreck the Reef, we are idiots. That is pretty simple and it is a bit of a shame that Australia has got itself into a situation where that is the choice.
*****
AG: Are you decided upon who you are going to vote for today ?
Semi, sort of.
AG: Semi decided. Are you confused ?
I just don't keep up with it too much, yeah.
AG: Right, so what are the major factors for you in deciding?
I will probably just vote whoever is going to offer more jobs for people.
HOW WILL I VOTE? WILL READ THE FLYERS ON THE WAY IN
AG: How do you know who is going to do that ?
I am going to read the flyers on the way in.
AG: Now that is hard core research.
Yeah I know, exactly.
AG: Right, do you realise that it is compulsory preferential voting ?
That I have to do it, yeah, I know that.
AG: Is that going to make a difference in how you vote today ?
It means I will vote; it doesn't change how I will vote
******
AG: What do you think are the major issues for QLD in this election?
I have no idea to be honest. I don't keep up with it.
AG:Right, what is your career?
I am currently studying.
AG: Studying what?
Mechanical Engineering.
AG: As long as you will keep the State moving then, in your future.
Yeah hopefully.
*****
AG: Right so this is your first vote in a State election so I can't ask you if you are a rusted-on supporter of either side, so you don't even know if you are a swinging voter or not, yet?
Not particularly, I just go really with whatever my parents vote.
I VOTE THE WAY MY PARENTS VOTE
AG: What your parents vote? Now that is an honourable young man if ever I saw one. Okay,and are they swinging voters or are they stable voters?
I think they are fairly stable, I don't really know.
AG: What do you see as the major issues in this election?
Honestly I have no clue [laughs].
*****
AG: You might be aware that there is a very large mine proposed for the Galilee Basin, the Adani mine are you in favour of that or not?
...I am in favour of the jobs it will be making and the money it will put into the economy but it does have a fair bit of, like, environmental detriment.
AG: Like living beside one of the wonders of the world?
Exactly right, exactly right.
AG: How do you feel about voters having no choice, because major parties both approve the Adani mine and so does One Nation. Even if they hold the balance of power, we get the Adani mine and we get a wrecked reef. Do you think that is a problem for democracy — where people don't actually have a choice about something major like that ?
Mmm, yea,h I guess so. Well, obviously if you have no choice that is not democracy at all, is it?
Adani accused of paying people to stack its meeting on crucial mine deal https://t.co/9JMKm44Qf3 via @ABCNews

— Dave Donovan (@davrosz) December 2, 2017
MAJOR ISSUES? HAVEN'T GOT A CLUE!
AG: Do you think Tim Nicholls has earned the electorate's confidence to be voted for, as opposed to Annastacia being voted against?
In all honesty, I only heard the name Tim Nicholls just then, so I couldn't tell you [laughs].
AG: Right,okay,what is your… career?
I am a student studying finance and economics.
AG: What do you think are the major issues in this election?
Issues, I really don't know [laughs]. Yeah, I have no clue.
*****
AG: So you are a non-aligned helper. What is your sense of the vibe? Do you think that bringing in compulsory preferential voting this time is going to confuse people. Do they know they even have to do it?
... To be honest I am a bit on the fence, because ... I have only ever been around when there has been Vote 1 and now there is compulsory, but I have always marked every square ever since I have voted, that is just what I have been told, you know, from family.
PEOPLE ARE CONFUSED BETWEEN STATE AND FEDERAL ISSUES
Confuse people? Yes and no. Some of the people I have spoken to knew it and say yeah, yeah, thanks for reminding me and others go what is that? And other people go I don't want to do it, they would rather do a donkey vote or not turn up.
DON'T KNOW WHO TO TRUST
... They don't know who to trust...they are confused... Some people I talk to are confused between state and federal issues.
AG: Do you think Tim Nicholls has done enough to persuade people to vote for him?
No. I live in his electorate and I haven't heard a thing.
*****
AG: Well given that the Adani coal mine is backed by both major parties and One Nation. Do you think that is going to have an affect on people voting for the Greens for the first time?
Possibly, yeah.. .it is a very topical issue, that is for sure.
AG: Because ...no matter who you vote for you are going to get a massive coal mine that has the potential to wreck one of the wonders of the world and how will history see us? How will history judge us when both parties don't give anybody a choice on that?
[Sighs.]
AG: You don't think history will judge us harshly?
I think, well, we are judging Americans at the moment for who they voted in, for whatever reason why they voted him in. We go down as one of those as well.
AG: Is this our Franklin River Dam moment?
Yeah [laughs].
*****
Lots of good conversations at pre-poll this morning! #maiwar #qldvotes pic.twitter.com/vleryS4YS1

— Ali King (@Ali4Maiwar) November 23, 2017
AG: Why is it that you have kitted up in your red shirt for Ali King today?
Well, for me, it is a matter of just keeping the democratic process going and ... it is about looking after democracy and looking after the planet, really, and for my grandchildren, and for the next generations and at the moment I think that this is the best option. And I know that this lady is going to work hard, in fact, the Greens candidate and the Labor, they are both wonderful, wonderful candidates, so it is just so sad that they are actually vying for the same position in this electorate...
...I don't even belong to this electorate
AG: Oh don't you? But you are a mate of Ali?
No, I am not a mate of hers, but I am sort of a global citizen. I just look at what is happening to the planet and I think politically - whatever I think is going to work for the planet and, you know, I am just concerned. The temperature is going to rise another two degrees ... in the next 15 years ... it is going to be really, really awful and in the meantime we are going to have all these major climatic events, and a lot of people are going to be killed and injured and hurt by them.
THE PEOPLE WILL CLOSE DOWN ADANI
AG: So are you worried about the Adani coal mine?
No, I am not because ... when people can get in and do something about it, it is just another private business, but then, I think the people will be able to close it down.
AG: What do you mean "close it down"?
I think after this election is over, if there is enough publicity
AG: So you actually don't want the mine, but you are voting Labor anyway?
No, absolutely yes, because the alternative is worse...
*****
Thank you to Amanda Gearing and all who participated.
There are now only four votes between Berkman and King in Maiwar! #qldvotes #qldpol #qldvotes2017 pic.twitter.com/7XqvzsYtRY

— GC Labor support (@tpennyt) December 1, 2017
THE GOVERNMENTS WE DESERVE?
Do we really get the governments we deserve? Only in part, surely.
Who could have forseen the farce that has become so much of Federal, state and municipal politics. We didn't ask for it. We don't deserve it.
There is irony even in the name of today's by-election in "New England", especially given the recent dual citizenship time and money wasters, including the electorate's most likely winner, former Deputy Prime Minister Barnaby Joyce.
It is curious that Joyce, the most high profile of the 17 candidates in the scrum, has kept out of the limelight — a spot in which he usually gleans a fake tan.
His awful grabbing of mining magnate Gina Rinehart's $40,000 cheque the other day seems a metaphor that has sullied too many politicians for it to be mere accident.
His eagerness with which he immediately said he would spend the money on his farm was rather repugnant.
Clearly, he spared little thought for the many farmers forced into penury by corrupt banks; no donation forthcoming from his direction.
The fact that he was shamed to return the cheque does not excuse him.
abcnews: Labor raises concern over the "undue influence" Gina Rinehart has over Barnaby Joyce https://t.co/5Y6WGOBDUI pic.twitter.com/2o0fKlu1YN

— Jodi Jones (@happydreams22) November 22, 2017
Nor should he and his fellow travel companions, Julie Bishop and Teresa "the raw prawn" Gambaro, be excused from accepting the largesse of Gina Rinehart's free plane ride in June 2011 to an infamous and grand Indian Bollywood wedding — the granddaughter of Indian billionaire industrialist GV Krishna Reddy, one of Rinehart's corpulently wealthy business mates.
Would that be the same GV Krishna Reddy of GVKHancock Coal?
What do youse reckon?
Is it just me who wonders why this joint venture doesn't get as much publicity or scrutiny as Adani, given this boast on the website:
The Alpha Coal Project is a well-known thermal coal deposit within the Galilee Basin in Central Queensland, Australia. The deposit has massive resources of thermal coal in the premium location of the basin.

Described as the jewel in the crown of the Galilee, the Alpha Coal Project will be a 32 Mtpa open-cut coal mine, with the potential for the future development of significant underground reserves. The open-cut operation has an expected mine life of 30 plus years, with sufficient Joint Ore Resources Committee (JORC) compliant resources to extend the project life well beyond 30 years. The Alpha Coal and Kevin's Corner combined resource is 7.9 billion tonnes of JORC compliant thermal coal.
Politicians, including Joyce, so often laugh things off. They don't laugh with us.
They laugh at us.
As, surely, do the likes of GVKHancock and Adani.
It's not a joke, Joyce. I don't hear the people laughing.
The #Adani mine, the rail line and port expansion is going to destroy cultural heritage sites from pit to port #StopAdani pic.twitter.com/35zZelVgOH

— FrontLineActionCoal (@FLACCoal) November 21, 2017

This work is licensed under a Creative Commons Attribution-NonCommercial-NoDerivs 3.0 Australia License
Still might be a few surprises in the Queensland election before counting stops on Tuesday. Labor behind in Townsville by 13 votes and in Maiwar by 4 votes. Not impossible that the Government could end up with 49 seats. pic.twitter.com/LhKs4EY3lQ

— Dave Donovan (@davrosz) December 2, 2017
Make a change. Subscribe to IA.