Sri Lankan tyrant Mahinda Rajapaksa is using violence and intimidation to try to get himself re-elected — allegedly assisted by the Abbott Government, writes contributing editor-at-large Tess Lawrence.
SRI LANKA'S MURDEROUS President Mahinda Rajapaksa goes to the polls today.
The famous Ceylon tea leaves, long brewed in blood, forecast that the despotic thug is poised to be prised from his once invincible corrupt and dictatorial cruel rule.
But one scoop extra for Sri Lanka's version of Pol Pot, just in case he is re-elected. Either way, it ain't going to be pretty. If he goes, he won't go quietly.
Perhaps the loss by Sri Lanka's cricket team to New Zealand yesterday in the Second Test is another portent of the election outcome, given the propagandist importance of the government's hand-picked team.
For years Rajapaksa, members of his familial cartel and their horrid cronies have been protected by a diplomatic firewall of morally bankrupt, politically expedient and hypocritical nations, including Australia.
Under the flaccid mismanagement of successive governments, we have become adept at bleating about the war crimes and atrocities committed on more distant shores and yet have done nothing to expose Rajapaksa's crimes or call him to account, instead plying him with gifts and bribes misappropriated from the public purse; our silence sanctioning murders, torture and the notorious 'white van' disappearances of activists and anyone who even dreams of justice and human rights.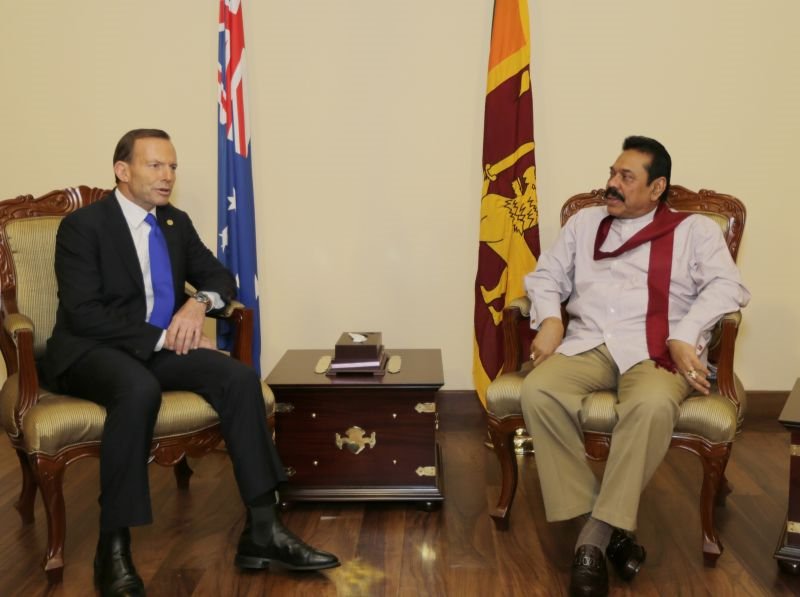 Mahinda Rajapaksa is close to Australian Prime Minister Tony Abbott.
In July last year, Independent Australia documented the toxic nepotism of the Rajapaksa family and its infecting stranglehold on the cabinet, bringing a whole new meaning to Einstein's Theory of Relativity.
RAJAPAKSA CABAL OF GANGSTERS COLLAPSING
But Rajapaksa's sordid world collapsed in November, when his former Minister of Health, Maithripala Sirisena announced the hitherto unthinkable — that he would contest his one-time lord and master for the presidency.
The announcement set off a political incendiary explosive device in the regime's "court".
The IED sent Rajapaksa into a vindictive rage that has grown in momentum as power seemingly slips from his greased palms.
He publicly threatened defectors, saying that he has files on them.
A panic-stricken Rajapaksa announced he would call the presidential election two years earlier than he needed to, seeking a third term in office as the candidate for the United People's Freedom Alliance, a preposterous name for a cabal of nepotistic gangsters.
But within days, the beleaguered bully found himself increasingly isolated — the solitary elephant in an otherwise deserted room.
RAINBOW COALITION OF MUSLIMS, TAMILS AND OTHERS UNITE AGAINST REGIME
Sirisena's candidacy triggered a wave of more than 25 humiliating defections from Rajapaksa's inner sanctum, sending ripples of disbelief, hope and elation around the Tasmanian-sized island nation.
Just days before the formal announcement, Sri Lanka's Daily Mirror journalists K.G. Karunarathene and Kanchana Kumara Ariyadasa wrote about the increasing rumours that Sirisena would oppose Rajapaksa as the "Common Candidate" for the United National Party Opposition Coalition, now inclusive of several religious and ethnic groups, including Muslims, Christians and Tamils and described as a rainbow coalition.
There were grave concerns – and still are – for Sirisena's life. With good reason.
He has survived earlier assassination attempts, but these days the assassins have better weapons and friends in both high and lower places. He poses the biggest threat to yet confront Mahinda Rajapaksa.
In an ominous sign, Rajapaksa withdrew Sirisena's personal security detail, whilst increasing his own protection.
Hopefully tomorrows Sri Lankan election and its aftermath is peaceful. http://t.co/4FtyjmDpQQ #SriLankaElection

— DP (@devperspectives) January 7, 2015
INCUMBENTS STAND TO LOSE BILLIONS IF DEFEATED ...
SAID TO BE SECRETING FUNDS OVERSEAS, INCLUDING AUSTRALIA
The incumbents have much to lose including billions plundered from the public purse through bribes, "facilitation" fees, kickbacks and other illegal acquisitions and land holdings.
Informed sources have told Independent Australia that, anticipating the worst, the Rajapaksas have already allegedly secreted more gold bullion and monies overseas to personal and business bank accounts, including to Australia.
And what has happened to the tonnes of illegal blood ivory seized by Sri Lankan Customs from Colombo's Port and worth mega millions of dollars, brutally hacked from the cheeks of about 300 wild Kenyan elephants, often whilst still alive?
Under the Convention on International Trade in Endangered Species, this ivory was supposed to be destroyed, but Mahinda Rajapaksa instead ordered the contraband to be sent to his palatial estate.
SIRISENA LOYALISTS WOUNDED IN DRIVE-BY SHOOTING
Already there has been violence and intimidation.
Yesterday, in a drive-by shooting, three Sirisena supporters erecting a stage for a rally, were shot and wounded, prompting retaliatory attacks.
Sirisena called for calm and also promised that, if elected, he would protect the Rajapaksa family.
SIRISENA SAYS NO DICE ON PACKER CASINO
In his comprehensive 62 page manifesto entitled 'Compassionate Government, Maithri, A Stable Country' Sirisena tackles issues big and small, pledging the appointment of Ranil Wickremesinghe as Prime Minister, making it clear that, if elected, there would be no dice on James Packer's casino aspirations.
On Page 24, he says he will ' disallow' the two casino licences given to Water Front and Lake Kere
'... under the Strategic Development Projects Act contrary to certain decisions of Parliament and the Cabinet of Ministers, and despite the opposition of the Chief Prelates of all three Buddhist Sects.'
Casino tycoon James Packer rolls dice on Sri Lankan poll http://t.co/ol8Nlk9RMU

— chris akers (@sportschris) January 5, 2015
Last Sunday, in a desperate late hour effort to garner their unlikely trust, the man whose genocidal and racist policies have made miserable the lives of so many Tamils, audaciously appealed to them 'not to be misled by the false promises and leave any room for anyone to take away the democratic rights they won after the war.'
What planet is he on?
And he has busied himself by promising what he has thus failed to deliver — religious and racial equity for minorities.
He's even promised a new Constitution if he is re-elected.
CONSTITUTION SAYS NO THIRD TERM SO RAJAPAKSA REWRITES CONSTITUTION
But hang on, didn't he rewrite the Constitution to allow himself a third term ? He did. Problem solved.
His tweets reek of the manic desperation of a despot in his political death throes; little sentences bloated with big promises and inducements. Too much, too late.
In a moving cri de coeur, exiled journalist and respected activist for press freedom and human rights, Sunanda Deshapriya, who has endured a number of death threats, wrote an open letter to President Rajapaksa in the Lanka e News, pointing out a few home truths.
You must be aware by now, that the Joint Opposition has been able to harness an unanticipated reach and depth of popularity. That such a surge of inspiration would carry them forward is something that probably even the opposition leadership didn't anticipate. The verdict of this presidential election has already been declared by the people of this country. What remains to be done is just to mark the box.

Do you, by any chance, not have even a moment to reflect on why your people; once mesmerised by your image, your actions, your words, your smile; are now abandoning you? Or is it possible that you are victim of a truly dense level of self-delusion?

Whether or not dictators are in possession of a conscience is a question for sociologists. It has been proven that individuals who serve in institutions of State repression like the Police and the Prisons, are capable of torturing juveniles during their work hours, and of petting and cuddling children of the same age in their own homes. Hitler, who ordered the deaths of six million Jews, was capable of tenderness towards his lover. Soldiers, who can kill innocent civilians in the rawness of war, also relax at home with parents, wives and children.

Thus even the most brutal of men have a place of softness within their hearts. I am not equalling you to the likes of Hitler. But even you know that your rule is arbitrary. If noting else, you are a Constitutional Dictator, someone who has closed off the last remaining paths to Democracy, set up a rule which is run by your family and aides, and who has changed the laws of the land to best secure this situation.
#SriLanka: Violence & intimidation threaten presidential election http://t.co/jHpCWilT0F pic.twitter.com/UnaRtkudwm

— Andrew Stroehlein (@astroehlein) January 7, 2015
The violence and intimidation towards Rajapaksa's opponents is burgeoning.
The ABC is quoting a Sri Lankan police spokesman as saying 65,000 police have been deployed to guard polling booths and counting centres. However, Independent Australia has been informed the figure is closer to 70,000.
There are conflicting reports about the loyalty of the police and whether on the day they will instead support the 15 million people eligible to vote, rather than intimidate them on behalf of Mahinda Rajapaksa; the real reason for their visible presence.
There are also grave fears Rajapaksa will mobilise a large number of the 400,000 strong combined Defence Forces to further 'heavy' voters to retain the status quo.
DECAPITATED DOG HEADS DELIVERED TO SIRISENA SUPPORTERS
Yesterday, the Asian Human Rights Commission issued a statement and published gruesome photographic evidence of decapitated heads of dogs that were delivered to several Sirisena supporters.
Shamelessly, Rajapaksa has even pleaded with the electorate to re-elect him as the 'Devil' they already know, rather than vote for Sirisena.
Undoubtedly the collective efforts of the Sri Lankan Diaspora has contributed to the possibility that Mahinda Rajapaksa could lose today's election. They tread a dangerous path, often jeopardising the safety of family members back home.
"I am the known devil, so please vote for me." @PresRajapaksa The New Yorker http://t.co/1hP32HKvcu #SriLanka pic.twitter.com/yRM73t4FBq

— Story South Asia (@storysouthasia) January 8, 2015
Mainstream and even new media have long been reluctant to criticise the Regime.
Independent Australia has already reviewed and continues to support Trevor Grant's explosive and brave book, Sri Lanka's Secrets: How The Rajapaksa Regime Gets Away With Murder.
In a farcical attempt to suppress free speech in Australia, war crimes suspect Mahinda Rajapaksa tried to 'heavy' publisher, Monash University, into withdrawing the book from sale.
He also ordered fellow war crimes suspect and confidante Admiral Thirasa Samarasinghe, Sri Lanka's High Commissioner to Australia, to apply diplomatic pressure upon the University's executive to extract a public apology from the university, named for Australia's famous General of stout courage, Sir John Monash.
Independent Australia has been informed that the Abbott Government and, in particular, Scott Morrison, then Australia's Minister for Immigration, were not only complicit in Rajapaksa's veiled threats, but also provided strategic advice and intelligence in how best to coerce Monash University.
Minister Morrison's notorious violations of international human rights and refugee conventions has sullied Australia's reputation both at home and abroad and includes the enforced return to Sri Lanka of asylum seekers fleeing persecution from the Rajapaksa regime.
Providing such advice constitutes diplomatic impropriety and serious security incursions.
If proven, such violations of citizen rights in conducting lawful business may render the Australian Government legally liable to accusations of being a vexatious and malicious informant, causing loss of income and reputation and providing a foreign power with statutory illegal informations about its (Australian) own citizens, breaching Federal and State laws, legislation and privacy laws.
It is understood that spin doctors, crisis management firms and lobbyists engaged by the Rajapaksa regime to gain greater access to Washington and ameliorate Sri Lanka's brutal war crimes record as documented in Grant's book and elsewhere, have been feverishly attempting to pour whitewash over the pages of Sri Lanka's civil war history, long sodden with blood and bone and tears.
SL High Commissioner In Australia Tries To Block The Book "Sri Lanka's Secrets" | Colombo Telegraph http://t.co/9Xba2LAxGH

— Jayadeva de Silva (@Jayadeva) November 17, 2014
The murderous secrets of Sri Lanka's Rajapaksa regime. Brilliant book review by Tess Lawrence. http://t.co/HY8fukuSfS @IndependentAus

— Dave Donovan (@davrosz) October 25, 2014
Further, Independent Australia has been informed by sources within the Australian Secret Intelligence Service, (ASIS) that there are serious concerns about the Abbott Government's now habitual exchange of informations with other foreign powers about Australian citizens who have not been convicted of offences either in Australia or overseas, but are regarded as political "nuisances" and who, in reality, are merely activists and protestors exercising lawful democratic rights.
Author Trevor Grant, a respected journalist and refugee advocate, was refused a visa by the Rajapaksa Sri Lankan government to attend and report on the Commonwealth Heads of Government Meeting (CHOGM) in 2013.
Independent Australia can confirm that the Australian Government was informed by the Sri Lankan High Commission of Grant's application and supported Sri Lanka's visa rejection.
Despite secret meetings and correspondence with Monash University, Rajapaksa's bullying emissaries armed with the imprimatur of the Abbott Government, and Ministers Morrison and Foreign Minister Julie Bishop in particular, failed in their quest to intimidate the University, whose student protests against the war in Vietnam are legendary.
To its credit, Monash University rebuffed Rajapaksa's outrageous attempts to suppress freedom of speech in Australia.
In fact, the University is openly proud of its reputation for social justice and on its own website acknowledges its reputation for 'irreverance'.
In the 1970s the foundation campus at Clayton became the centre for student protest in Australia, and this philosophy of challenging the status quo permeated the University. It remains to this day, although where once it was the Vietnam war and second-wave feminism that occupied activists' attention, today it is global poverty and sustainability, among many other causes.

This position of leadership was not only confined to campaigning and advocacy, however, and Monash had soon become the model for a new generation of Australian universities.
Sri Lanka's Secrets, published by Monash University Publishing, includes a damning foreword on Sri Lanka's 'ethnic cleansing' of its Tamil population, penned by international Human Rights advocate Geoffrey Robertson QC and was launched by his Australian counterpart, Julian Burnside AO, QC.
In this foreword, Robertson wrote of how some images of the genocide were 'too grotesque for this book'.
Referring to the photos of the horrendous massacre in the ' No-Fire Zone', some of them trophy photos taken by the killers themselves, Robertson said
'...they show summary executions, naked female bodies on the beach, violated and drowned, lines of captives beaten on the head with rifle butts, shot where they crouched in handcuffs.'
RAJAPAKSA TRIES TO KILL 'SRI LANKA'S SECRETS'
But that didn't stop Admiral Samarasinghe's shameless attempt to bully Monash University and try to force it to pulp Grant's book.
The Tamil Refugee Council in Australia, released a statement condemning the actions of the Sri Lankan government.
Sri Lanka's Secrets was launched at Readings (bookshop) in Carlton on August 14.
On August 27, High Commissioner Samarasinghe apparently wrote to the University requesting a meeting with the vice-chancellor to discuss the book.
The statement quotes the Director of Monash University Publishing, Dr Nathan Hollier:
'Professor Abid Khan, the deputy vice-­‐chancellor, wrote an official response and then met with Admiral Samarasinghe and the Sri Lankan consul-­‐general for Victoria on September 8. These two representatives also met with the vice-­chancellor on September 26.'
Professor Khan's letter is believed to have rejected Samarasinghe's attempt at censorship, saying authors were free to publish their work through Monash University Publishing without fear from institutional discipline. It also reiterated that the publishing arm was an autonomous part of the university and that its publications don't represent an official view from the university.
His Excellency was apparently invited to point out any errors in Grant's book on the Unveristy's website, but declined to do so.
The book is part of a series published by Monash University Press that deals with investigating power.
Both Melbourne and Sydney launches were disrupted. In Melbourne, a member of the audience fainted but despite anonymous calls to halt the launch it continued. In Sydney, yelling disrupters were escorted out of the room by security officers.
It must be noted that Maithripala (spellings differ, including on his own websites) Sirisena was a dutiful servant of the murderous Mahinda Rajapaksa regime and cannot entirely absolve himself from its misdeeds.
But on this day, he is the one person capable of toppling his nemesis.
If the Coalition wins today's election, it will only be the first battle in what could be a long war to reclaim Sri Lanka from the iron grip of the Rajapaksa family.
Sirisena at least knows where the bodies are buried and he will be hard pressed to ensure his own corpse does not lay amongst them.
You can buy Sri Lanka's Secrets at a discounted price from the IA online store (free postage within Australia).
SRI LANKA'S SECRETS: How the Rajapaksa regime gets away with Murder (F | Independent Australia http://t.co/O2tYP8LXOv

— IndependentAustralia (@independentaus) October 25, 2014

This work is licensed under a Creative Commons Attribution-NonCommercial-NoDerivs 3.0 Australia License