United Stated President Donald Trump has copped a bullet from the FBI that could prove fatal, writes contributing editor-at-large Tess Lawrence.
DONALD TRUMP'S DANGEROUS RUSSIAN ROULETTE may yet prove fatal to his toxic scandal-riven presidency, now that he has copped a bullet from the FBI.
Today's shock twist by former FBI Director Special Counsel Robert S. Meuller the Third, whose brief is to oversee the FBI's investigation into Russia's involvement in the 2016 presidential campaign, comes mere hours after the inglorious performance by Trump yes-man Attorney-General Jeff Sessions and mere days after sacked FBI Director James B. Comey were both interrogated by the U.S. Senate Select Committee on Intelligence.
In their exclusive report, the Washington Post revealed that Trump is now being investigated for possible obstruction of justice.
Is that a global yaaaaaaaaaaay!! I hear? Yes! да. Da!
The Post's report also includes a detailed analysis of the ongoing Russia saga and some of the key players and manoeuvres.
HAPPY BIRTHDAY MR PRESIDENT: FROM RUSSIA WITH LOVE
Whilst a far cry from being serenaded by sex siren Marilyn Monroe, Meuller's probe is surely a fitting present for Gemini President Trump's 71st birthday and the many anti-birther activities organised by disaffected Americans for the 45th incumbent.
We can but speculate as to what his fave world leader, Russian President Vladimir Putin will be sending him in the Diplomatic Bag via Ambassador Sergey Kislyak.
Actually Putin sent the Donald this autographed photo of himself. Vladimir is the one on the right. Both men wear man boobs when outdoors. Both men have small paws (Image via jasonomahony.ie)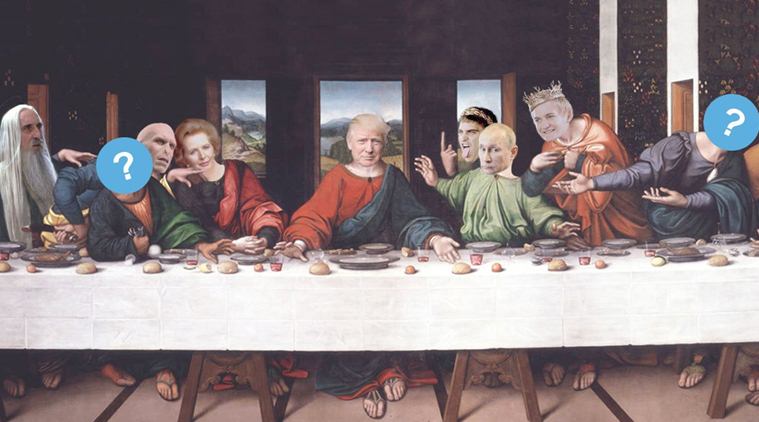 Donald Trump and his mates celebrating his birthday in the big Trump tower in the sky (Image via Indian Express)
In a curious move that smacks of a Trumpian pre-emptive threat to warn off Meuller over the Russia investigation, Trump buddy Christopher Ruddy, the CEO and editor-in-chief of Florida-based Newsmax Media Inc, who regularly trills Trump's praises, made an astonishing admission.
WHERE THE RUDDY HELL ARE YA?
On June 12, in an interview with PBS NewsHour's Judy Woodruff on the day before Sessions was to testify, Ruddy dropped an IED that seems to have been lovingly assembled in one of the VIP rooms at Mar a Largo.
He flagged that President Trump was considering sacking Meuller.
Real fake news?
After all, why didn't Ruddy save such an exclusive for his own publications ?
Was Ruddy just doing Trump's bidding and by proxy warning Meuller to back off the Russia investigation? You betcha.
Check out the interview:
Trump friend: 'I think he's considering perhaps terminating the special counsel' - YouTube
But fossick about on Ruddy's news site and you come across a little-known article he wrote the day before Comey's Senate appearance; a puff piece on Trump that outlined a collusive scenario between Comey and Meuller, revealing that
"I already see two significant tip-offs about the way this case is viewed by President Donald Trump and Special Prosecutor Robert Mueller."
So Ruddy again has the inside running from his mate the Prez.
That has all backfired.
TRUMP PRESIDENCY CONTAMINATED BY SHARED WHITE HOUSE TOILET SEAT
Meuller has now indicated he will not be intimidated by Trump and has come out fighting.
Comey's testimony praised Meuller's integrity. Comey himself has felt the feathered sting of Trump's tweets.
Donald Trump got wind of the investigatory net closing in around him. His coterie were being interviewed by federal agents and he thought it would serve him well to publicly threaten Meuller. It did not.
Nor does it behove Trump's messenger.
Not only has Ruddy damaged his journalistic standing and that of his media empire, but he has exposed the clumsy choreography of Trump's haphazard media strategy.
We should be thankful that Ruddy's pas de chat has again exposed an unworthy presidency that, from Day One, has been contamined by the political ecoli of a shared toilet seat in The White House.
WSJ: Trump is still questioning the intel community's judgment that Russia interfered with the election https://t.co/rrmdillAYi

— NotMyPresident (@MarcusC22973194) June 15, 2017

This work is licensed under a Creative Commons Attribution-NonCommercial-NoDerivs 3.0 Australia License
BREAKING: NYT reports Mueller's appointment 'enraged' Trump & HE 1st talked about firing him https://t.co/iSJgTNeUTA via @thedailybeast pic.twitter.com/0pPOm07RRe

— Allan Margolin (@AllanMargolin) June 14, 2017
Support equality. Subscribe to IA for just $5.
#TheResistance #ObstructionOfJustice

Hey Mueller, Trump says, don't keep up the good work.
by Canadian Gary Clement @garyjoelclement pic.twitter.com/eoevHMMFbR

— ♀️ The Anti-Trump (@IMPL0RABLE) June 15, 2017