A decade ago, as the world battled the global financial crisis, Australia's economy zoomed to the top of the international table. Alan Austin was there and taking notes.
IT TOOK 108 years since Federation, the worst global recession in 80 years and gutsy decisions but Australia did it: world's best-performed economy in April 2009.
Economic growth
Australia's growth rate in gross domestic product (GDP) topped the developed world for the first time in the 2009 March quarter. Virtually all economists worldwide – certainly, in Australia – had expected the economy to contract, probably quite deeply.
Chris Richardson from Access Economics said in February 2009:
"What is happening internationally is absolutely diabolical ... Nothing Australia can do will stop recession here because it's recession everywhere."
But Australia's economy grew by 1.1% that quarter, generating an annual GDP growth rate of 1.5%. This was the highest of all 36 member countries of the Organisation for Economic Cooperation and Development (OECD).
Only two other countries experienced annual growth that quarter – Poland by 0.4% and Norway by 1.1%. All other economies contracted, many of them disastrously in terms of job losses, business failures and suicides.
Unemployment
Australia's jobless rate for the first four months of 2009 averaged 5.36%. Over that period, new jobs exceeded 5,500 — an extraordinary result compared with elsewhere.
Australia's ranking on jobs in the OECD, according to the World Bank DataBank, was 9th in 2009. Current ranking, in contrast, is 19th.
Hours worked per adult per month
This key indicator remained strong and steady through 2009, never falling below 86.2, despite the turmoil. In contrast, this fell below 85 four times during the dismal Abbott and Turnbull years.
Productivity
From 92.2 index points in the third quarter of 2008, productivity rose to 95.3 index points in the 2009 third quarter, one of the strongest surges this century.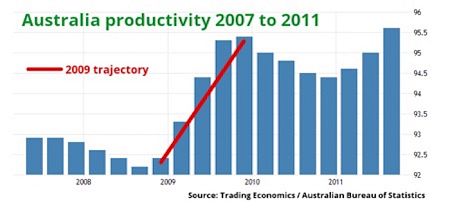 Income per person
Gross domestic product per capita in 2009 was US$51,690 (AU$72,097) — the fifth highest in the world, behind Luxembourg, Denmark, Norway and Switzerland. That was up from tenth place just three years earlier, having overtaken the Netherlands, Sweden, Ireland, the United Arab Emirates and the USA.
Median wealth
Credit Suisse data shows 2009 was the year Australia's wealth rocketed up the global rankings. At the end of 2009, the median level was $154,201, second – only just – to Belgium on $154,921. Australia then led the world from 2010 onwards, until 2015 when it slipped to second. It fell further in 2016.
Interest rates
Australia was one of only two OECD countries which kept interest rates within the optimum band of 2.6% to 4.8% through the GFC. The other was Mexico.
Interest rates fell below one per cent in the USA, Canada, Sweden, Denmark, Singapore and the United Kingdom. Others copped high interest rates, including Iceland, Argentina, Brazil and Vietnam which all soared above ten per cent.
Economic freedom
In 2009, Australia topped the OECD for the first time on economic freedom, according to Heritage Foundation's rigorous analysis. Australia rose from fifth place in 2006 to second in 2007 and 2008, then to top spot in 2009 — where it stayed until 2015.
Value of the Aussie dollar
From below 64 U.S. cents in January 2009, the Australian dollar recovered to 80 cents by the end of April. It continued to appreciate from there – thus enhancing the wealth of all Australians – to end 2009 at 88 U.S. cents. It continued to rise thereafter, reaching US$1.10 in July 2011.
Government debt
Two datasets reveal debt levels relative to the rest of the developed world. Trading Economics shows Australia third lowest in 2009, behind only Chile and Estonia. The IMF data, which calculates the debt differently, ranks Australia third behind Estonia and Luxembourg.
More key measures
Other impressive indicators included:
The IAREM
From ranking ninth in the world in 2007 on the Independent Australia Ranking on Economic Management (IAREM), Australia rose in 2008 to third place, behind Luxembourg and Kuwait.
It then surged to top spot in 2009, ahead of Norway, Luxembourg, Singapore, the United Arab Emirates, Finland and Switzerland.
The IAREM is a composite index which ranks all world economies on the eight key outcomes most citizens require of economic management.
Policy initiatives
This ascendancy was no accident. As outlined here and here, critical decisions were taken which were perceived as extremely risky at the time. Heavy political costs were born when the Rudd Government copped the condemnation of the craven Coalition Opposition and large swathes of the malicious mass media.
Credit where due
Those responsible for the decisions through the GFC included Prime Minister Kevin Rudd, Treasurer Wayne Swan, Deputy Prime Minister Julia Gillard, Finance Minister Lindsay Tanner and Minister for Infrastructure Anthony Albanese. Credit must be shared also with Treasury chief Ken Henry and Reserve Bank head Glenn Stevens.
As chronicled here in 2016, the verdict of independent observers abroad has been overwhelmingly positive.
Those accolades keep coming, including from Stephen Bell and Paul 't Hart in the Netherlands:
Success, luck or failure? By any standard, the GFC was a remarkable episode in Australian public policy. The sheer scale of the crisis response moves that were made continues to impress ... These were audacious moves, outright 'policy gambles' under conditions of radical uncertainty. The key question, of course, is: does all this end up to being a 'great policy success' – a triumph of willed non-occurrence of negative events?
Here is the answer: world's top economy in 2009 and 2011. And, in 2012 and 2013, the best-performed economy the world had ever seen.
Stand up for human rights! Read about Alan Austin's current situation HERE and help out by contributing to the crowd-funding campaign HERE. You can follow Alan Austin on Twitter @AlanAustin001.
This work is licensed under a
Creative Commons Attribution-NonCommercial-NoDerivs 3.0 Australia License
Support independent journalism Subscribe to IA.