Cory Bernardi is simply part of a big push to redefine the political centre in Australia and shift it to the right, writes Duade Borg.
FOR YEARS NOW there has been a big push to redefine the political centre in Australia and shift it to the right. This has accelerated greatly since last year's Federal election.
Whether it's the calamitous conservative choir of self-serving voices at News Corp, or the lame Liberal loudmouths like barnstorming Badger Bernardi (I call him Badger because he always his nose in the dirt and I imagine this is what it would be like trying to rein him in), the Australian public has been bombarded by constant accusations against "the left".
It's being used in that subtle condescending way; the same way the Murdoch news media and conservative commentariat use terms such as "abortion" and "same-sex marriage" — like there's some sort of impropriety or dirtiness implied rather than inferred.
Badger's latest brain dump cess pit has been met with the expected shock, criticism and ridicule usually afforded to pot stirring troublemakers.
He is a "religitard" in every sense of the word — a flat Earth, man-made climate change denying buffoon. You can spot a religious conservative almost instantly by the beady eyes so close together and the knuckles dragging along the floor; it's obvious they have only taken their first few steps out of the trees. I don't rope all religious people in the same, just the stupid ones. Badger fits that bill.
Badger's job is to be divisive.
Acting in concert with News Corp "journalists", the conservatives are looking to bring about societal change without causing too much of a ruckus. The government knows they can quietly usher their agenda through, but it becomes all the more difficult when there's dissident voices which aren't easily shouted down. Politics is a deep game indeed.
Writes Badger in his new scrapbook:
'The political pressure from the left has ushered us into a morbid new world. It is not enough to stop the trend. What is needed is a reversal back to sanity and reason.'
(Image by John Graham / johngraham.alphalink.com.au)
Although the irony of this statement weighs me down substantially ‒ that there are no greater enemies to his world view than reason and sanity ‒ as an example of ideological domineering, it's what Cory might describe as "gold standard".
At least someone from his own side finally called him out for the closet homosexual his Liberal colleague Warren Entsch seems to suggest he is; which is not derogatory, unless he takes it that way — in which case, I'm glad.
So what are the targets of this conservative agenda? It's quite an exhaustive list.
Badger sets his crosshairs on the true great threats to faith (or rather specifically Christianity). First of all there's that nasty 'green agenda', where apparently respecting all life on the planet and working for sustainability is 'placing animal and plant life above humanity'. Badger doesn't seem to understand that human life relies on animal and plant life, as if he's never read a book, which is strange considering his references to empirical evidence in other comments — more on that in a moment.
The other big threat is Islam, according to Badger, is that it is "fundamentally incompatible with the Western way of life".
As an atheist who's studied religions and their impacts, I have to wholeheartedly disagree with this. If he looked at his own doctrines under an objective light for once in his life he'd see that Islam and Christianity are much more compatible with each other than either of them are with Western life.
It's the degree of religiosity which matters — not the religion itself.
Bernardi spews:
'Given the increasing number of 'non-traditional' families, there is a temptation to equate all family structures as being equal or relative.'
And for the most part, he's right!
Evidence informs us that there is no discernable difference between outcomes in 'non-traditional' families and 'traditional' families, so long as there is an authoritative and loving structure in the family life. However, he goes on to claim that criminality among boys and promiscuity among girls is higher in single parent families — which isn't strictly untrue, though the empirical study of human psychology informs us that the factors that contribute go much deeper than family structure.
It is much harder for single parents; yes, girls, on average, will reach menarche at an earlier age in the presence of a stepfather, however this is far less a factor in promiscuity than inadequate sex education. Badger picks and chooses from science and religious doctrine to suit his agenda, which makes it even more difficult to take him seriously.
There's so much more but, really, all of this points to a man out of his depth — a coward in every sense of the word, desperate to avoid any change which may take him out of his comfort zone. For wealthy middle-aged white men like Badger, who inherited their wealth and who will do anything to conserve it, that comfort zone is the status quo of the 1950s. Privilege is only privilege when few have it.
So, what can progressives and left-wingers do to combat this assault on modern Australia?
Give it back to them! Use conservative as a dirty word. Roll your eyes at the mention of "the right". This will help combat the culture wars Murdoch is fighting but there are really important things to do too:
Love each other.
Be nice to animals.
Help those in need.
Care for your environment.
Don't be afraid.
Don't judge if it's not harming you.
These are the only things I need in the Australia I want to live in.
Oh, and keep supporting our ABC!

This work is licensed under a Creative Commons Attribution-NonCommercial-NoDerivs 3.0 Australia License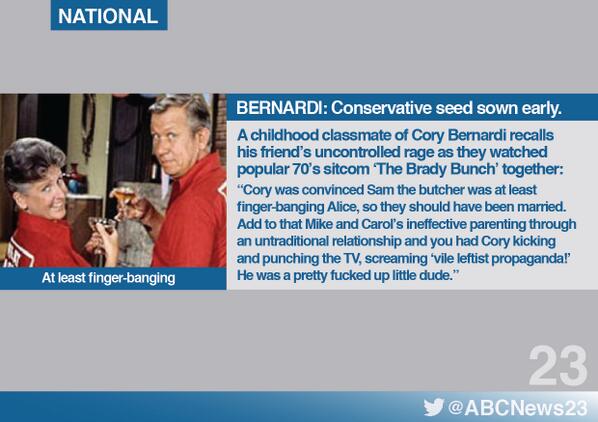 Support independent journalism Subscribe to IA.