The theme of this year's United Nations International Women's Day is 'Leave no woman behind' — so why are so many women still being left behind? Contributing editor-at-large Tess Lawrence reflects.
EVERY DAY should be International Women's Day (IWD).
Did you hear that, First World?
The theme of the United Nations IWD for Australia is 'Leave no woman behind'.
Tell that to Australia's Minister for Slut Shaming Women, Michaelia Cash.
There's also an 'inclusive rider' on the theme:
'Together we can empower women across the globe'.
So why are we leaving millions of girls and women behind?
Why aren't we working harder to empower our sisters in our own backyard and across the globe, myself included?
There is no equality within the sexes let alone between them.
Actually, we haven't come a long way, baby.
Indisputably some have, but there are still millions of females doomed to lives of utter servitude to men. Even in communities mired in abject poverty, they are held hostage to patriarchal brutalism, and are mere slaves to warped cultures and religions and tyrannical rules that dictate every facet of their lives.
In The First World of course, we have similar versions of patriarchy, perhaps dressed in finery and binary gender indulgence.
Some deride the notion of IWD. But it provides us with an opportunity to galvanise progress or indeed any regress in gender(s) equality.
It is important to celebrate individual and community achievement, and to acknowledge those who are neither celebrities, chief executive officers nor board members in title, but who are lesser known unsung gamechangers and advocates – perhaps volunteers – who daily contribute to making the world a better place.
As well as posh social events being held at posh venues throughout the day and evening, there will be those gatherings held on dirt floors, dingy buildings, ramshackle homes, with women and aunties and respected elders in attendance, bringing what they can for the communal table.
There are numerous groups who claim IWD — and that is as it should be. Some may appear elite, powerful networking fraternities and that is not to say they do a power of good in between times.
The Harvey Weinstein Factor and the #metoo Twitter account that subsequently emerged has also ignited other hashtags in multiple languages.
The diminutive Tarana Burke, whom millions first saw on Oscars night in fact founded the "original" Me Too movement 12 years ago. Ms Burke and her supporters had to publicly reclaim the name used in the hashtag. Rightly so.
News about #metoo on Twitter:
As the website metoomvmt.org attests:
In 2006, Tarana Burke founded the me too. movement to help survivors of sexual violence, particularly young women of color from low wealth communities, find pathways to healing. Using the idea of "empowerment through empathy," the me too. movement was ultimately created to ensure survivors know they're not alone in their journey.

The me too. movement has built a community of survivors from all walks of life. By bringing vital conversations about sexual violence into the mainstream, we're helping to de-stigmatize survivors by highlighting the breadth and impact sexual violence has on thousands of women, and we're helping those who need it to find entry points to healing. Ultimately, with survivors at the forefront of this movement, we're aiding the fight to end sexual violence. We want to uplift radical community healing as a social justice issue and are committed to disrupting all systems that allow sexual violence to flourish.
It's motto is "You are not alone." Nothing could be more true. But how wonderful to know that, to read that, to feel that, to share that.
The movement has become so powerful that companies and organisations will suffer economically, if they don't address allegations, charges and earlier convictions — and make redress and take remedial and rehabilitative steps to change corporate and/or endemic cultures that incubate this toxic and worldwide pandemic.
The Me Too movement has revived some of the long misplaced fervour of the Women's Liberation Movement.
Feminism is now a product and that can be a good thing. Token feminism, such as this 1981 cigarette advertisement featuring a Playboy Vargas pinup girl-type, all-American lumberjill can be deadly — and I don't mean deadly as in a "cool" sense.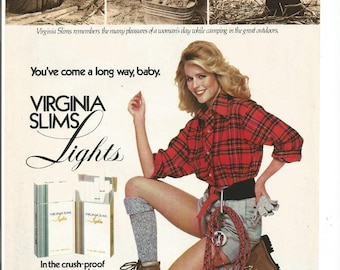 (Image via etsy.com)
But that commercial tease can also be the forum for political discussion and fund-raising.
Ergo this advertisement featuring Legally Blonde actress Reese Witherspoon for Elizabeth Arden, that declares it will donate all proceeds from its signature lipstick to the U.N. Women's gender equality project:
(Image supplied)
We can certainly ponder the psychology and promotion of cosmetics — and the endorsement of Witherspoon. But she is a board member of the Children's Defense Fund — a child advocacy organisation.
Along with her Hall of Fame star in Hollywood, she was also honorary chair of the Avon charitable foundation. (Avon, incidentally, is closing down in Oz.) She also owns a production company and clothing line. So there is a fashion connection as well.
How far away is this from the raping and mutilation of girls and women in Syria? Only a bomb away. Or from the rape of girl babies in the Northern Territory or anywhere else? Only a sister away.
Happy International Women's Day. Happy Everyone Day too.

This work is licensed under a Creative Commons Attribution-NonCommercial-NoDerivs 3.0 Australia License
What a moment! 👏🏼👏🏼👏🏼 #FrancesMcDormand bringing all the women at the #Oscars to their feet to support and celebrate women's stories and women filmmakers.✨ #MondayMuse (Via @abcnews) pic.twitter.com/s3u7QRunEM

— Reese Witherspoon (@RWitherspoon) March 5, 2018
Subscribe to IA.