The coming arrival of the royal baby is sending the media into meltdown; Barry Everingham writes about why – sadly – this event is important at a constitutional level.
THE IMMINENT ARRIVAL of Kate and William's first child shouldn't have any effect on Australia,but sadly, from a Constitutional point of view, it can't be ignored.
Incredible as it may seem the child, boy or girl, could possibly one day be the Australian head of state. A place already held by the baby's great grandmother — an ethnic German non-Australian non-elected non-resident foreigner.
She is
Queen Elizabeth II
, Queen of the United Kingdom and the 15 nations of the Commonwealth. Her son,
Prince Charles
will succeed his mother, his son,
William
will succeed him and the new baby will succeed William.
As longevity seems to be the hallmark of the royal family, we can expect the new arrival to climb to the throne in about 80 years. Most people reading this will be dead at that time.
If we don't come to our senses and rid this country of its archaic and ridiculous
status quo
we will become the world's laughing stock.
In fact, we are already are.
The current mad situation means that under the rules of succession, there is not one Australian citizen, one man, woman or child who can aspire to this country's top job.
The monarchists will say: "oh well". Well, I say: "nonsense!"
They will claim the Governor General is already our head of state and that she is an Australian.
That is just not so.
Her Excellency Ms Quentin Bryce
represents the Australian head of state, she is not the head of state — although a better person for job doesn't come readily to mind.
Another impediment to an Australian attaining the role is, that the incumbent needs to be a direct descendant of the
Electress Sophia of Hanover
— who just happened to go to God in the early 1700's.
How mad is that?
While we languish in cuckoo situation, the Poms have least dragged themselves into the 21st century by
changing the laws of succession
. The changes allow the first born child of the reigning monarch, irrespective of its gender, to succeed to the throne. Until recently the male took precedence over the female.
Another departure from dark age madness has taken place. Until now, Roman Catholics were strictly forbidden from being crowned and by tradition only Anglicans were eligible.
That insulting law was changed — and well it might have been. In multicultural, egalitarian Australia there was and is no place for such bigotry.
There must have been a frisson of anger and disappointment when Julia Gillard, an avowed republican, named the forecourt of the National Parliament in Canberra, Queen Elizabeth Terrace.
Of course, the spectre of a Tony Abbott government will mean nothing will change.
Before entering politics he was a failed Roman Catholic priest, an opinion writer for
The Australian
and
The Bulletin
– both publications of unashamedly republican leaning – and, if it could be called a job, he was secretary of
Australians for Constitutional Monarchy
— a rabid right-wing branch of the arch conservative side of the Liberal Party.
Abbott's choice to replace Quentin Bryce, when her term expires soon, is said to be John Howard. There is a school of thought that his ambitious wife is behind the appointment.
We will be told that it is Queen Elizabeth II who, at the end of the day, must approve such an appointment. That is hogwash!
She will do as she told by the prime minister — as well she should.
Back to William's and Kate's baby.
All Australians will congratulate the couple on the birth of their first child and it would be churlish to do otherwise.
But let's not go over the top with expensive gifts and commemorative stamps.
Come to think of it, Julia Gillard's knitted kangaroo will be a perfect gift!
This work is licensed under a
Creative Commons Attribution-NonCommercial-NoDerivs 3.0 Australia License
Join the IA newsletter for regular updates on our latest news stories.
We need YOU!
IA punches above its weight.
Help us sharpen our knuckledusters.
PLEASE DONATE NOW!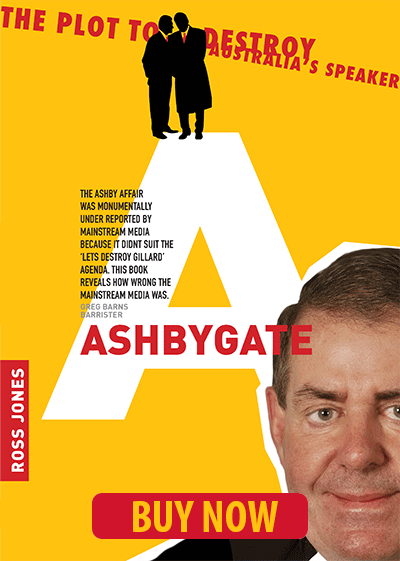 Subscribe to IA and investigate Australia today.